(Column) NHK Science & Technical Research Laboratories Open House (1) 8K Close to Development Phase, Smaller and Lighter Third Generation Camera, 3CCD and Theater Camera Supporting 120P Debut
2014.6.12 UP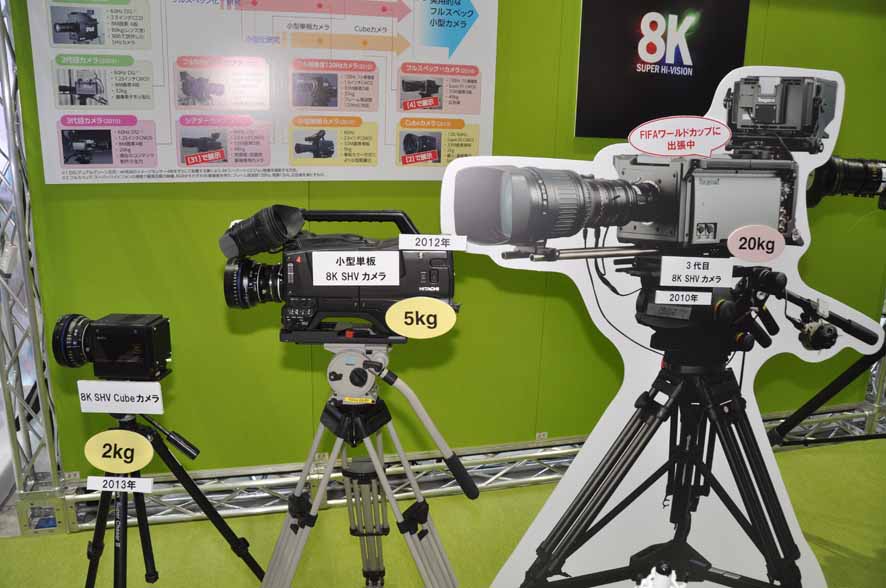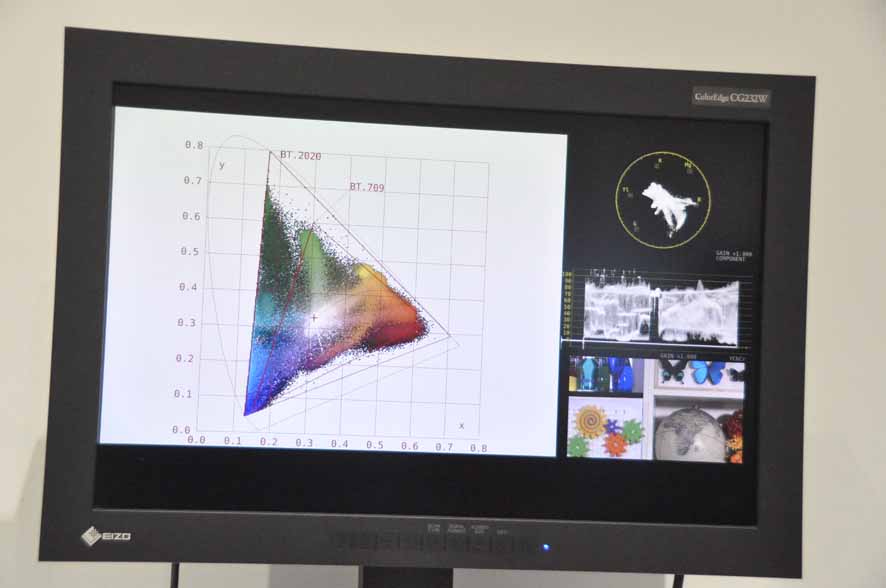 Showing the many colors that can only be seen in the 2020 color gamut.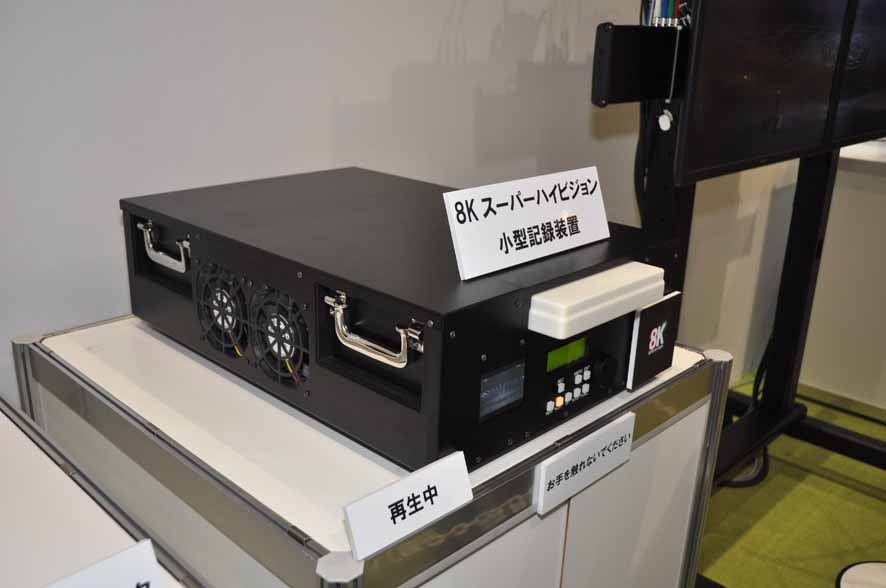 Solid memory packs reminiscent of video tapes.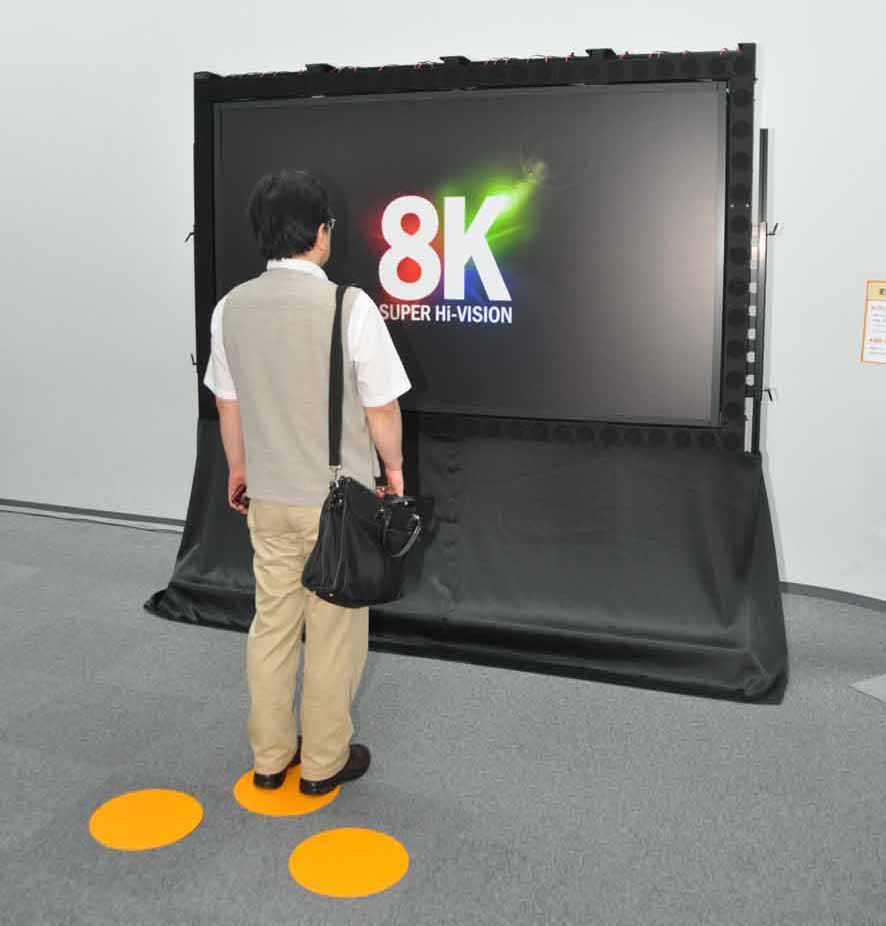 Sound image is localized only in the front speakers if you stand in the marked circle.
 NHK Science & Technical Research Laboratories was open to the public for 4 days from May 29th through June 1st. Hybridcast and 8K Super Hi-Vision were at the forefront of this year's event. NHK's Hybridcast service has already begun, and the exhibit focused on its further evolution. The main 8K Super Hi-Vision camera was on a "business excursion" to Brazil for the FIFA World Cup at the time (exhibit panel presentation = photo above), but plenty of new hardware was introduced, emphasizing 8K Super Hi-Vision's progress towards commercialization. Besides the 8K, NHK's flexible displays and integral three-dimensional displays showed the significant progress being made in display technology. A multitude of technology intended to support existing broadcasts was shown off as well. These innovations are expected to be used in a number of fields, increasing content production efficiency and helping content producers better understand viewer needs. (Editorialist - Visual Communications Journal/Professor - College of Industrial Technology, Nihon University Koji Suginuma)

■An Event to Introduce the "Technology of Tomorrow"
NHK Science & Technical Research Laboratories (hereinafter, NHK STRL) held their public "Open House 2014" this year. The event lasted from May 29th - June 1st and opened up the first and basement floors, exhibiting poster displays, demonstrations, and lectures in addition to 31 exhibitions.
8K's image quality at its fullest potential was placed foremost on the first floor this year. Within the entrance hall were living room areas equipped with 8K TVs and Hybridcast. This was followed up with exhibits on 8K cameras and imaging techniques, transmission (modulation and demodulation), content production equipment, and acoustics for 8K. The first floor exhibition came to an end with integral 3D TVs and holographic display elements (modulation elements). If the first floor was the spot for technology currently under the NHK STRL's main focus, the basement was where a wider range of researching was on display. The basement boasted technology and innovations that came in direct contact with viewers, force sense presentation, and user need discovery. Also on display was technology that increases image sensor sensitivity and technology used in content creation.
4K test broadcasts began on June 2nd, the day after the Open House ended, but 4K did not appear whatsoever at the event. 4K is viewed as "today's technology," thus it would seem out of place at a research and development center focused on the "technology of tomorrow and the day after."

■8K Camera News: The Third Generation 8K Camera on its "Brazilian Business Excursion" Weighs 20kg, 3CCD and Full-spec Theater Cameras Introduced
The stand out exhibit on the first floor was the history of 8K camera miniaturization. The first model that debuted in 2002 weighed 80kg. A 32kg model was released two years later, followed by the current third generation 8K camera weighing 20kg. All were 3CCD cameras. Sitting next to this exhibit were a 1CCD device developed in 2012 and a CCD cube (1CCD). Numerous cameras were on display including both a full-spec 3CCD camera that supports 120P and a wide color gamut in separate spaces and a theater camera with enhanced sensitivity and quietness.
Many dual-green systems have been used in 8K cameras to enhance resolution via the "pixel shift" method already used in 4K elements. Both the third generation and the theater cameras make use of this. This exhibit made clear why 3CCD using 8K elements is referred to as a "full-spec camera." Due to the standardization of 8K as BT. 2020 by ITU-R, this camera seems to follow along that specification. Although it is not necessary for all elements to meet full BT. 2020 specifications, the elements expected in Japanese broadcast look to be heading towards this "fullness."

■3CCD Full-spec Camera Employs 8K Imaging Elements, Achieves Vivid Wide Color Gamut
The full-spec camera that debuted at this event obtains the highest possible resolution through 3CCD using 8K imaging elements instead of 4K pixel shift, thus it handles 120P. This alone was already developed in 2012, but the color gamut has been increased by BT. 2020 requirements (commonly known as the 2020 color gamut). Gradient is also 12-bit, 4 times the fineness of the 10-bits used in delivery.
 A small, multi-colored object was placed in a corner and shot with the camera. The video signal was transmitted via optical cable to a display a short distance away. No display device that corresponds exactly to the 2020 color gamut has been announced yet, but its appearance is expected in the near future.
At the time, the color distribution had to be indicated on a measuring instrument as many of the colors do not appear in the color gamut of current HDTVs (709 color gamut). These that do not appear on HDTVs are not particularly special colors. Neither the vivid blue of a butterfly's wings nor the emerald green of the sea are found in the 709 color gamut, but can be reproduced in the 2020 gamut. Because color gamut expansion in commercial TVs is processed by each company, there are instances wherein the same color is displayed as different colors. Once color gamut devices are developed and the 2020 gamut becomes widespread, TVs will finally be able to display the colors content creators intend.

■Miniaturization of Recording Devices Through the Adoption of Solid-state Memory, Unique RAW Data Compression Process
The 8K era will be completely tapeless. The storage media of choice will be solid-state and hard disk drives. The Open House event introduced the memory-detachable 8K Super Hi-Vision small recording device for use with outside broadcasting vehicles.
Solid-state memory is contained in a solid memory pack smaller than a VHS cassette. This memory contains images using NHK STRL's proprietary lossless compression. This "unique system created in the frame," (according to the exhibit guide) is a compression method developed with editing in mind. The key here is not the compression method itself, but efficient compression of RG1G2B 4 channel camera output. RAW data is compressed instead of RGB passed through the CCU. Camera head output is handled directly. Each channel is composed of a pixel width of 4K and height of 2K, however, 8K width and 4K height pixel data is produced by combining the G data of the two, and is then compressed. Image quality is improved over the conventional method of separating G1G2.
Cartridge shape, signal standard for connections pins, and the compression method are all currently in research and were not on display at the event. In order to avoid confusion with regard to future content creation, it would most likely be necessary to propose this method to standardization agencies.

■Front Panel 22.2 Channel Stereophonic Sound
Acoustic research has evolved steadily since the last Open House. 8K uses 22.2 channel sound, but has received criticism over the perceived unwillingness of users to place 24 speakers and a subwoofer in their homes. Thanks to the head-related transfer function, NHK STRL has realized the feeling of three-dimensional sound source placement with audio coming from behind and above using only speakers connected to the panel.
The effect only works in three locations in front of the display at this time, so users would not yet be allowed to move around as they please. However, improvement in computing capability would make it possible to enlarge this "sweet spot." Additionally, tolerance for movement would be increased as technology that can follow viewers as they move about a room is further developed. There is a good chance this sweet spot will be fully realized by the time broadcasts begin in 2020, so vigorous research and development is expected.