【InterBEE 2013 TV】Anritsu exhibit a variety of measuring instruments, including fiber-optic cable maintenance and troubleshooting measuring instruments
2013.11.15 UP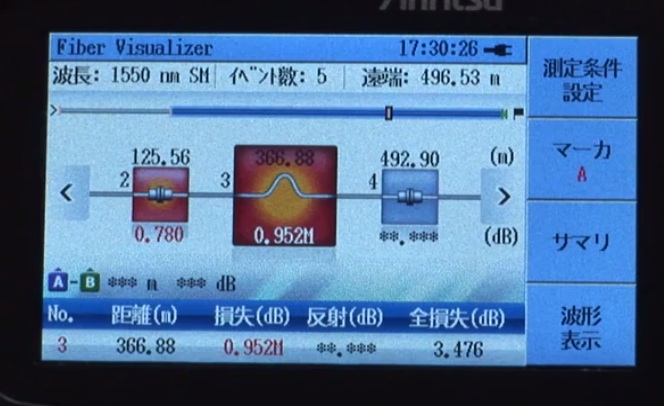 The visualization of the status of the fiber-optic line at the connection point makes it easier to read
 Anritsu showcased several wireless measuring instruments at InterBEE 2013 that support ISDB-T impedance testing, as well as ISDB-Tmm, ISDB-Tsb, Area 1seg, and GAP-filler analysis. They also demonstrated measuring instruments for the installation, maintenance, and troubleshooting of fiber-optic cable for broadcast networks, for characteristics evaluation of optical transceivers and AOC (Active Optical Cable) for video transmission, and for quality assessment of transmission lines.
 Three testers were demonstrated in the OTDR (Optical Time Domain Reflectometer) fiber maintenance tester corner, introducing three major features.
 The Fiber Visualizer feature provides an easy-to-read visualization of the status of the fiber-optic line at the connection point. Additionally, a common OTDR measurement screen can easily measure a signal, and display it in wave form. The third demo introduced the fiberscope visual display feature for accurately identifying the tip of an optical connector.