【InterBEE 2012】FOR-A First Japanese Exhibition Displaying Full 4K High Speed Cameras and Many Other New Products
2012.10.30 UP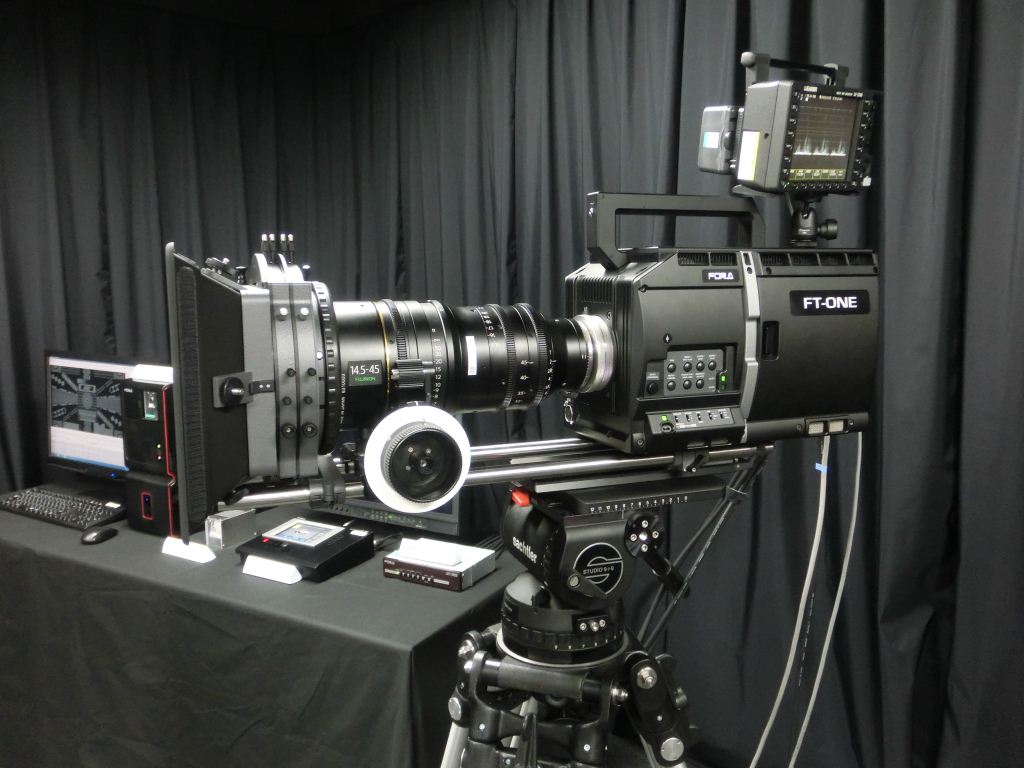 FOR-A (video and broadcasting related machinery category #6507) will be displaying several new products in a wide variety of categories, such as cameras, video switchers, live production, ingest/material management and archiving, etc.

■ For the First Time at a Japanese Exhibition: Full 4K High Speed Camera 'FT-ONE': 900 Frames per Second, for up to 9.4 Seconds
The following new products will be on display for the first time in Japan: Full 4K High Speed Camera 'FT-ONE', HD/SD/analogue mixed recording high detail multi-viewer 'MV-1620HS', HD/SD video stabilizer 'IVS-710HS'.
FOR-A's high speed camera 'FT-ONE' is a camera capable of recording at full 4K (4096x2160 pixels) in up to 900 frames per second, enabling for super-slow motion playback. Up to 9.4 seconds of RAW data can be saved on the internal memory, and the available memory can be further increased with external SSD cartridges.
The memory is partitioned in 16 parts, giving the camera the possibility to record to a different memory space while at the same time playing recorded footage, allowing for simultaneous read/write during live coverage of sports, etc. The camera comes with many useful functions for use in sports shows, such as a switching function to excise a specific part of the 4K footage and use it as regular HD footage.
During video output, the camera uses a 12-axis color matrix to permit real-time hue and saturation adjustment of individual colors. Using the same function, it is also possible to adjust the footage from regular cameras used during broadcast.
The camera is equipped with 2 HD output systems - the 3G-SDI 4 system and a HD output system for the viewfinder.
In our booth, we plan to show footage filmed with the 'FT-ONE' and color-graded and otherwise post-processed by our group company Exa International at 20 minute intervals. A reservation is necessary to attend.

■ High Detail 16-Input Multi-Viewer 'MV-1620HS'
The high detail multi-viewer 'MV-1620HS' can support up to 16 inputs and output to 2 screens at the same time. The multi-viewer comes loaded with functions such as a free-layout function, a display channel and pattern automatic switch, and a PC footage recording function.
The HD/SD video stabilizer 'IVS-710HS' is a successor model to the earlier VS-700HS. Any camera shake during recording is corrected electronically while maintaining camera pan and tilt movements. Footage can also be edited for camera shake after the actual recording.

■ Many New Products on Display, Including the All-in-One Live Production System
Besides those previously listed, the following new products will also be on display: the all-in-one live production system 'SmartDirect', the 1M/E-2M/E video switcher 'HVS-390HS 'HANABI'', the 2M/E-3M/E video switcher 'HVS-4000HSA 'HANABI'', the LTO server 'LTS-50', HD/SD High Level Color Corrector 'DCC-7000', the seamless switcher 'TSS-6200/TSD-6200', and the high-sensitivity HD camera 'FZ-B1' (FLOVEL manufacture), among others.
The all-in-one live production system 'SmartDirect' is a turnkey system filled with a multitude of functions for subtitling, camera switching, and so on. We have also added functions for streaming live internet broadcasts and a 'direct button' function to immediately display optional entries. In addition to setting up a corner with the actual machine, we intend to do a live internet broadcast from the convention floor using the system.

■ 'HANABI' Models HVS-390HS and HVS4000HSA on Display
Of the 1M/E-2M/E video switchers 'HVS 390HS 'HANABI'', the 2M/E model will be on display, with a standard 16-input 9-output, up to 24-input and 13-output. All inputs come with frame synchronization. The machine also comes with a variety of other functions: movie memory, footage HD resizing and an audio level meter display on the multiviewer.
Of the 2M/E-3M/E video switcher 'HVS-4000HSA 'HANABI'' series, both the 2M/E and the 3M/E models will be on display. We will demo functions such as HD/SD mixed input, 2.5D/3D DVE, the multiviewer, external controls, macro, movie file support, etc.

■ Small and Low-Cost LTO Server: 'LTS-50'
The LTO server 'LTS-50' is a brand new, small-sized low-cost storage server suited for filebases who do not need video I/O. The LTS-50 keeps the functions that were popular with its predecessor, the LTR, and also comes loaded with new functions such as automatic playback of proxy footage, partial retrieving, and other functions necessary in archiving.

■ 12-Axis Color Correction-Capable HD/SD High Level Color Corrector 'DCC-7000'
The HD/SD high level color corrector 'DCC-7000' uses a 12-axis color correction system which widely surpasses the conventional 3-axis RGB color correction. Using the specialized hardware, the color correction is carried out in real time. Besides adjustable black level and hue, this product also comes with a frame synchronizing function.

■ Change-Over Switch'TSS-6200/TSD-6200' with TS-Support
The 'TSS-6200/TSD-6200' is a change-over switch with support for transport streaming (TS). The streamer can switch between automatic/manual modes. The TSS-6200 is capable of seamless switching while the TSD-6200 is specialized for data broadcasting.

■ High-Sensitivity HD Camera 'FZ-B1' Comes with a New CMOS Automatic Sensitivity Adjustment Function
The high-sensitivity HD Camera 'FZ-B1' is a next-generation camera with a newly developed CMOS to replace the EM-CCD from previous generations. This system allows for high-precision shooting at a level equivalent to EM-CCD or higher. In addition to featuring an automatic brightness-based sensitivity adjustment function, this model also solves the problem of conventional high sensitivity cameras where you would be unable to shoot during daytime. This camera has also overcome the Achilles heel of CCD - the problem of smear.
FOR-A is also displaying new models with newly added functions in their existing product line ('Ingest Center', multi-function router 'MFR Series', HD/SD character generator '3D-VWS Tri', etc. )

【InterBEE 2012】
InterBEE is an exhibit for audio, video, and telecommunications professionals, showcasing the best domestic and international broadcast, video, audio, and lighting equipment, IPTV technology, Mobile TV technology, cross-media products, and related applications and solutions, all on one floor. The expo is visited by a range of professionals in the media industries, as it provides an opportunity to see the latest trends in the creative and media businesses up close and firsthand.
Held at Tokyo's Makuhari Messe between November 14-16 (Wednesday-Friday). Free admission.