【Inter BEE 2012】 Photron reproduces workflow used at the Summer Olympics broadcast center, presents the latest in file-based sports production systems using EVS products
2012.10.22 UP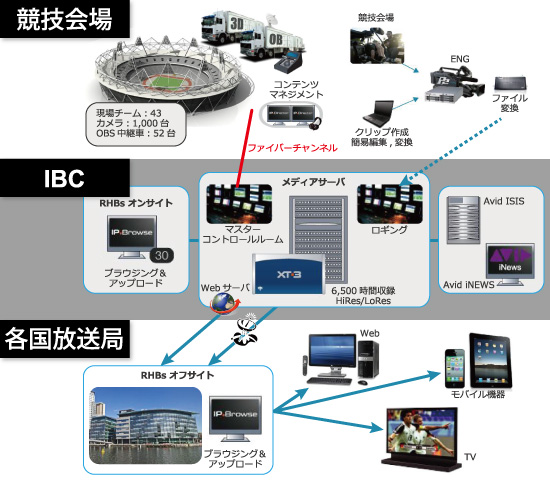 Photron (Video/broadcast devices category, booth #5409) will reproduce the system used for the Summer Olympics in London, which ties in to an EVS sports server and production setup. The company will be demoing the latest in sports production workflows at its booth.
 A total of 52 vans with over 1,000 cameras and 300 EVS servers were used to provide live coverage of 43 locations at the Summer Olympics.

■Demos to include cloud-based multi-camera video delivery
 Photron will be displaying its own FASTCAM BC2, an ultra high-speed camera that was used at stadiums and sporting grounds. In addition, it will exhibit the latest version of Multicam LSM, its highlight editing solution, as well as EVS Broadcast Equipment's XT nano sports server, EPSIO on-air graphics system, and Xedio Dispatcher, which allows for browsing, editing, and exporting the contents of XDCAM HD and P2 devices. Finally, a commercial model of the Xfly NAS server, a broadband solution used as an archiving system at the Olympics, will also be on display.
 The workflow used at the International Broadcast Center (IBC) for the London Olympics utilized XT3 and Avid's ISIS storage, integrated management through IP Director, and integration with Avid's Interplay PAM. Visitors to the booth will be shown server highlight editing and distribution systems and distribution management systems, as well as a demonstration of a cloud-based video delivery service. The latter is intended for second screens and utilizes C-Cast to deliver multi-camera footage stored on EVS servers.
(Kao Yamashita, ZAKKA MEKKA)

Inter BEE 2012
Inter BEE is a professional expo for audio, video, and communications professionals, featuring the latest in domestic and overseas broadcast devices, video devices, audio devices, lighting, IPTV, Mobile TV, cross-media, and related applications and solutions under one roof. The event provides an opportunity to see the latest trends in the creative and media businesses and is ideal for those involved in various aspects of the media.
Inter BEE will be held from November 14th (Wednesday) through 16th (Friday) 2012 at Makuhari Messe. Admission is free.