Inter BEE 2014: Strawberry Media Arts exhibited diverse solutions using large LED video systems, including its high-definition Floor LED Vision which can withstand two tons on the floor.
2015.1.15 UP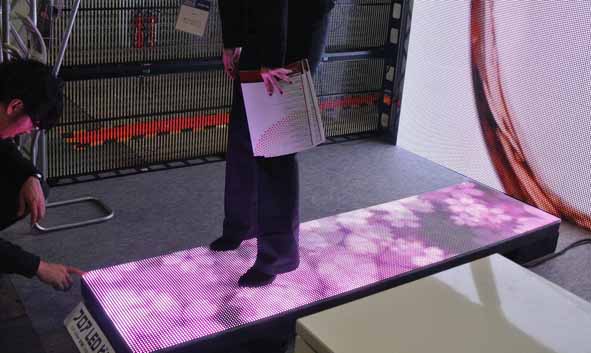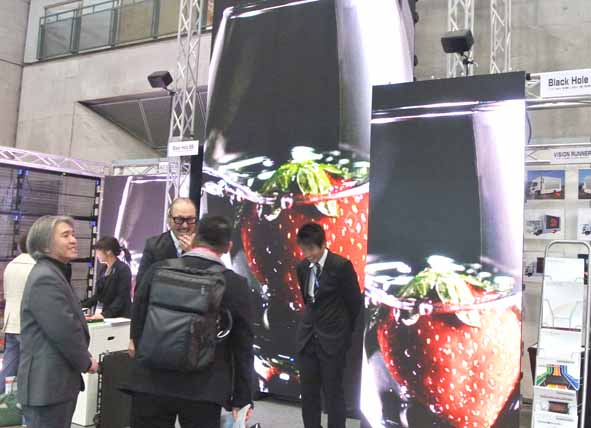 The large LED panels at the Strawberry Media Arts booth were eye catching.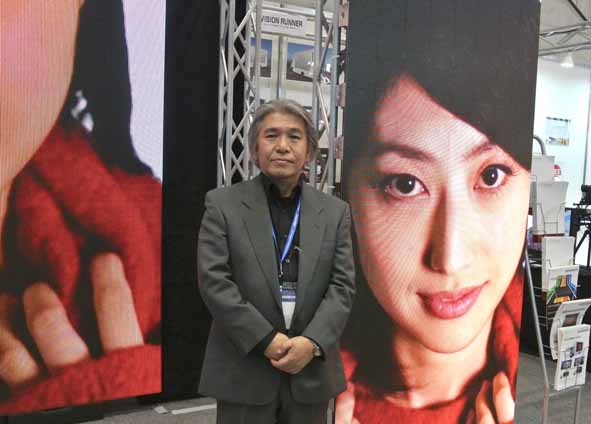 Mr. Ogata, the owner. On the right is the newly-developed high-definition LED with a 3.9mm dot pitch.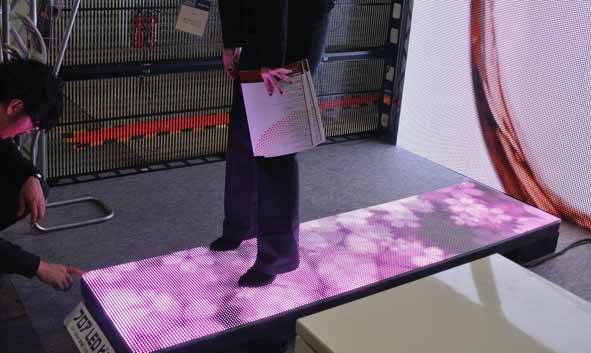 People can walk on the Floor LED Vision.
At Inter BEE 2014, Strawberry Media Arts showed diverse solutions using large, full-color LED video systems. Attracting a great deal of attention was their Floor LED Vision, featuring an 8.93mm dot pitch installed on the floor. It is a large video system solid enough to be installed on the floor, designed so that people can walk on it without any problems.
A single Floor LED Vision panel (50 cm x 50 cm) is designed to bear a weight up to two tons. Katsuhiko Ogata, the owner of Strawberry Media Arts, explains, "Although there are similar products from other companies, they all use a tempered glass plate for the display. Therefore, the glass is prone to cause reflections for TV pictures and the like. Our LED panels do not use glass plates; they are designed to withstand direct contact and weight. There are no reflections either, so you can see clear TV images. Besides showing TV programs, it can also be installed in corridors to display directional or guidance signs." Also on display was the ABLETECH P3.9, providing a high-definition 3.9mm dot pitch. Mr. Ogata stated, "At this year's Inter BEE, there are companies displaying large LEDs with a dot pitch in the 1mm range. However, when you think about cost and stability, a dot pitch in the 3mm range is currently more practical. Going forward, we intend to continue meeting the demand in this era of high definition."

■ Large LED Vision Runner for trucks, delivered to Naha, Okinawa last year.
Vision Runner is a new 200-inch LED panel for mounting on the side of a truck. Made in December 2013, it was delivered to Naha in Okinawa Prefecture. Mr. Ogata explained, "In Naha, they use it as a welcome sign at the entrance of the harbor, at local festivals and events, and for displaying information for tourists. We also rent out Vision Runner for events. As the digital signage market grows, only LEDs can display reliably even outdoors. Going forward, we shall continue to develop technologies for LED products to meet the increase in demand for events as the Tokyo Olympics approaches.
(*This report is for the Inter BEE 2014 held during November 19th-21st, 2014 at Makuhari Messe in Chiba, Japan.)