【Inter BEE 2014】 Sony HDR (high dynamic range) compatible 4K organic EL master monitor on exhibition. Light emission without mis-adjusted black levels. Incorporates the entire DCI-P3 color space, and most of BT.2020
2014.11.20 UP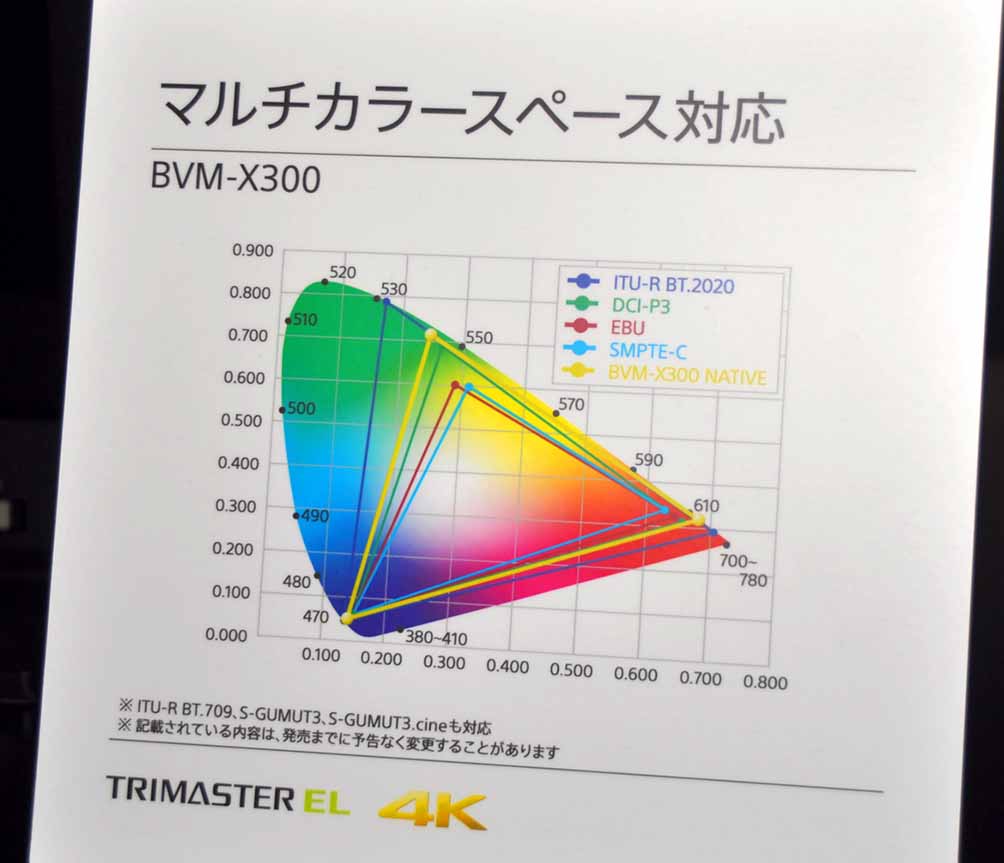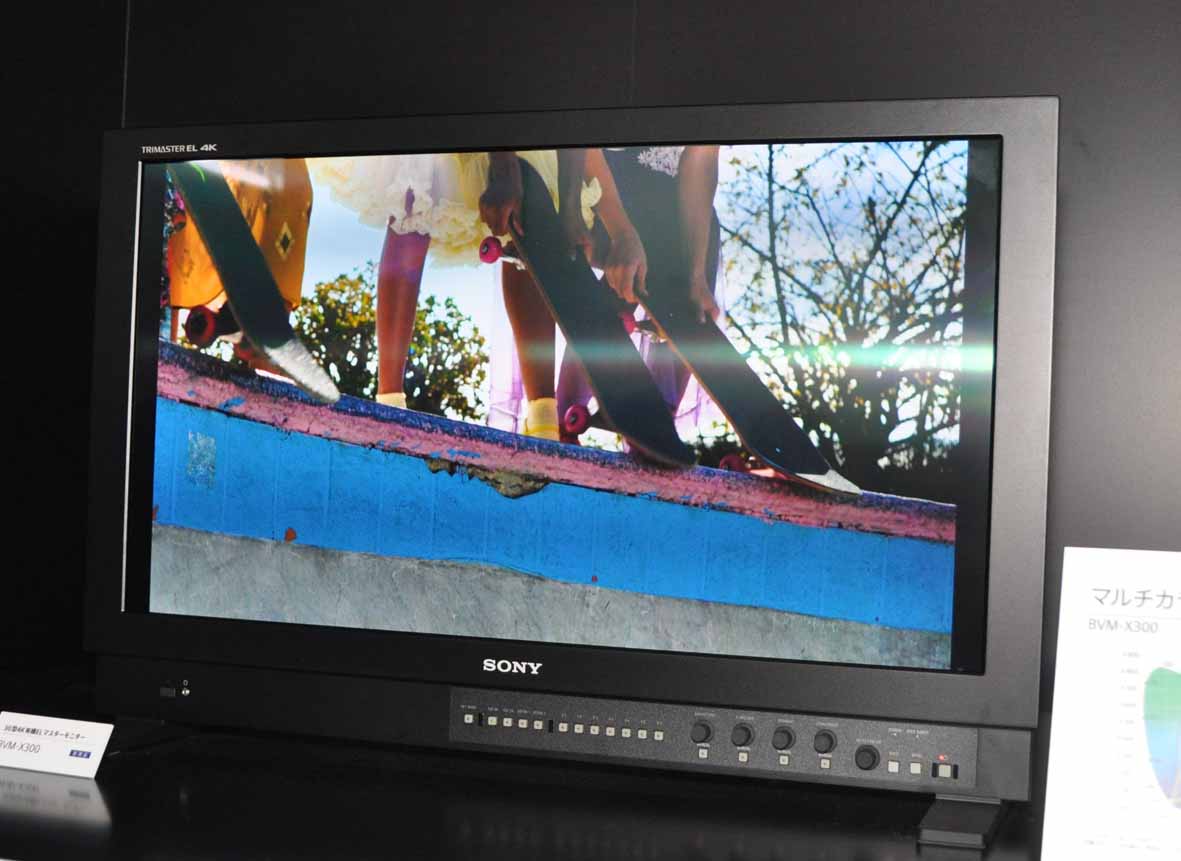 "BVM-X300", a 30 inch master monitor utilizing a 4K organic EL panel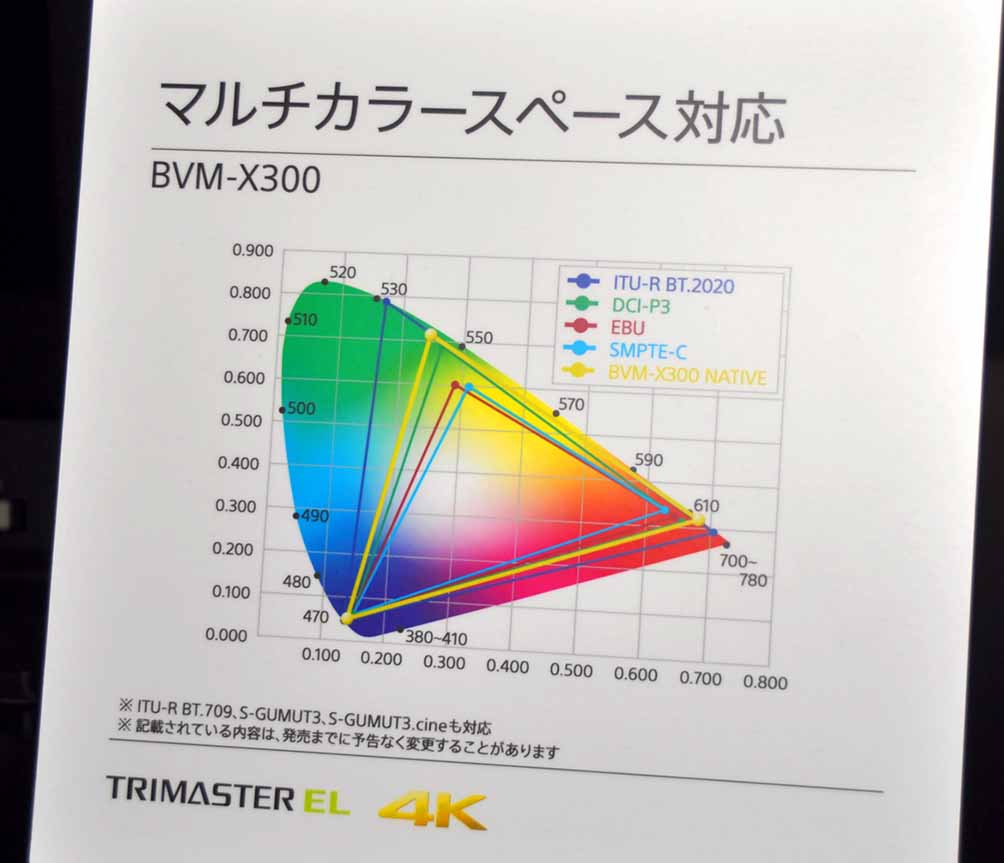 A panel displayed next to the product
Sony is exhibiting the 30 inch master monitor "BVM-X300" announced on the 19th, which uses a 4K organic EL panel, at their booth and in room 201 of the Makuhari Messe International Convention Complex. The BVM-X300 has a resolution of 4096x2160 pixels, making it suitable for both digital cinema and UHDTV. It is planned for release in February 2015, and was announced with a price of ¥3,880,000 (excluding tax).
 At the NAB Show in April, Sony exhibited a master monitor using a 4K organic EL panel; however, it had not been given a model number at that time. At the announcement at the NAB Show, it was claimed that it can present 81% of the color gamut stipulated by the ITU-R recommendation BT.2020. This time, numbers are not being presented for the coverage of the color gamut; however, at the Sony booth, comparisons of the CIE chromaticity diagrams (horseshoe-shaped in xy chromaticity diagrams of the CIE-XYZ color system) of color gamuts such as BT.2020, DCI-P3, and EBU are being shown. According to these, the BVM-X300 incorporates all of DCI-P3, and most of BT.2020.
 The utilized organic EL panel emits light, and has the characteristic that, in principle, black levels cannot be maladjusted, achieving a contrast ratio of 1,000,000 to 1. Using this characteristic, demonstrations presenting HDR (high dynamic range) are being exhibited at the exhibition corner of the International Convention Complex. Images of Brazil's Rio carnival shot using an F65 were displayed with HDR processing. Traditional systems give an overall dim impression with subdued lighting; however, the HDR images directly convey the light and darkness, with a different feeling of clarity. There are no blown-out highlights, and the ability to show detailed shading even in the highlights is one of the strengths of HDR. When HDR processing is performed with LCDs, complicated processing, including modulation of the light sources, is necessary; however, with organic EL, the remarkable characteristics of the bare panel alone makes processing comparatively simple. It is possible to pick out the information carried in the source signal without complicated processing.
 Due to the breadth of the color gamut and dynamic range, it seems likely that this monitor will be adept in both the fields of television and film.