(Inter BEE 2013) MEDIAEDGE showcases Multi-channel Loop Recording System adopted by Kansai Telecasting, ideally suited for post-disaster coverage by enabling simultaneous recording of 21 channels on one server, display of up to nine live video feeds at once
2013.11.20 UP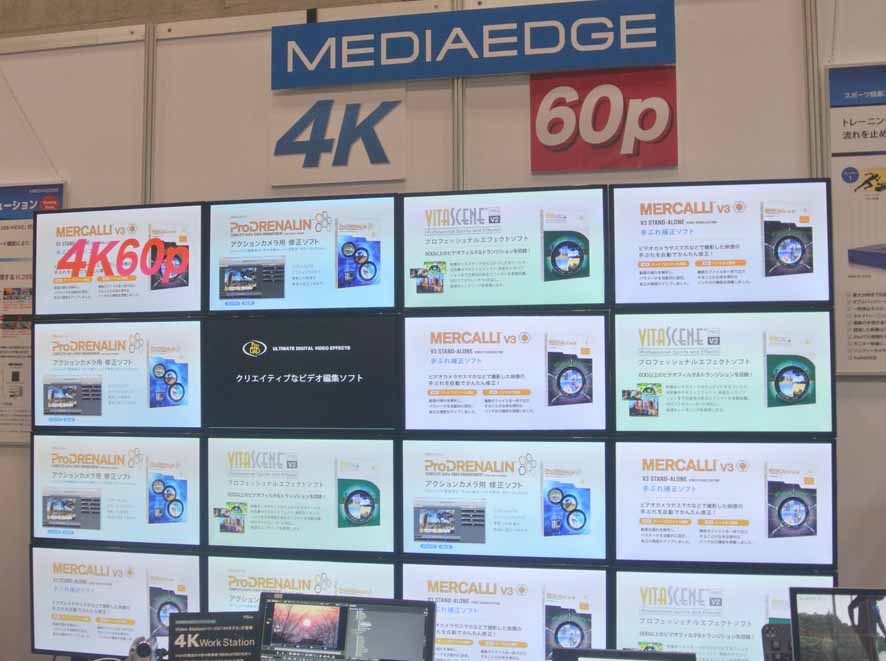 MEDIAEDGE is exhibiting their Multi-channel Loop Recording System, which has been adopted by Kansai Telecasting Corporation (KTV) and can support on-the-air reporting after disasters such as earthquakes and typhoons with simultaneous endless (loop) recording and organization of video from cameras in multiple locations. Also garnering attention at the MEDIAEDGE booth is their free-layout multi-display signage using high-resolution 4K video (top photo).

•Developed at KTV's request, the system makes recording of up to 21 channels on one server possible
MEDIAEDGE developed its Multi-channel Loop Recording System, with the unique ability to record up to 21 channels on a single server, after receiving a request from KTV around one year ago. KTV has implemented a system using two severs capable of recording 40 channels, which it uses in program production. MEDIAEDGE Development and Sales Support Manager Fumio Takeuchi explains that "with similar systems offered by other companies, each server can only handle up to four channels. Ours is the only system that can record 20 channels. It makes loop recordings 24 hours a day, 365 days a year, making it possible to pull up video from any location and put it on the air for news and other programs when an earthquake or other disaster has occurred."

•Other broadcasters impressed with maintenance and cost advantages
The Loop Recording System allows users to display nine live video feeds at once to check conditions at multiple locations, and makes it possible to quickly search recorded videos and select footage from the necessary locations and times.
The system's unique features and effectiveness were explained at a commercial broadcaster's technology briefing at KTV that coincided with Inter BEE. MEDIAEDGE says that at the briefing and the Inter BEE Show, interest from other broadcast stations has been increasing and is leading to inquiries.
Takeuchi says it has been reported that "KTV has been using the system for around a year, and it continues to run smoothly without any major problems." He adds, "The system has many advantages in terms of maintenance and cost, because it can handle a large number of cameras with few servers. We hope that many broadcasters will adopt the technology." With solutions such as monitoring and control systems that will likely be needed even outside of the field of broadcasting, from here they can also reasonably expect expansion into other markets where the diverse system architecture meets market demands.