【Inter BEE 2013 TV】PFU exhibit the 'QoolTornado QG70' high–definition video transmitting device, and propose practical uses for bidirectional multicast transmission and 4K storage and editing workflows
2013.11.14 UP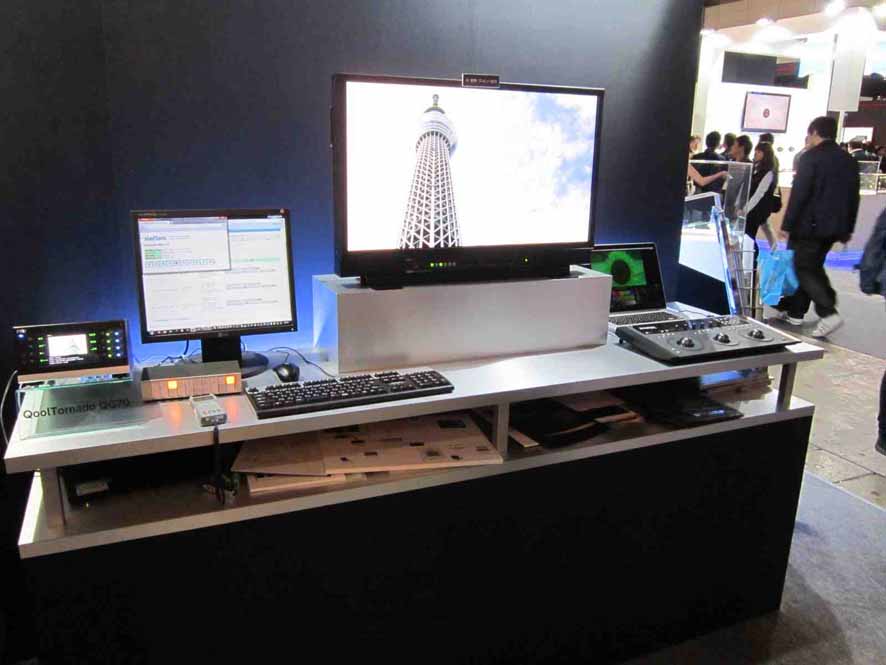 4K storage/editing workflow environment constructed for demonstrations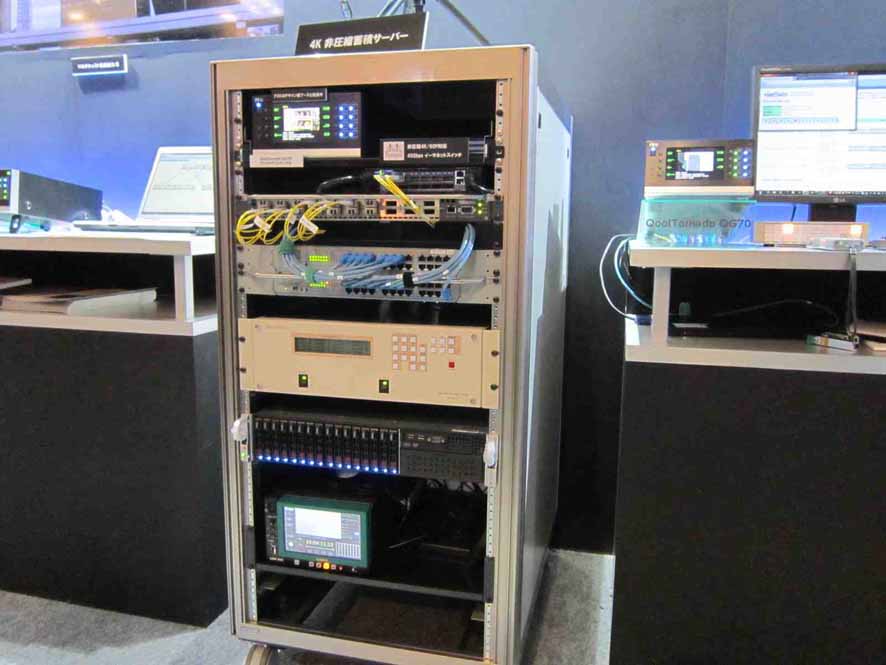 Storage server supporting 4K storage/editing workflow (reference exhibit)
PFU (booth 8225) have created a system centering around the 'QoolTornado QG70' high–definition video transmitting device, and are proposing practical uses for bidirectional multicast transmission and 4K storage and editing workflows.

■ Smooth two-way transmission of non–compressed 4K video data
The QoolTornado QG70 is a transmission device capable of bidirectionally multicasting non–compressed HD video as well as non–compressed 4K video data in a high–speed IP network environment (10 Gbps.) The company is also showcasing the fact that the QoolTornado QG70 can be applied not only to IP transmission of high–definition video, but also to storage and editing workflows.
For this purpose, a broadcasting environment has been constructed in the booth, where two QoolTornado QG70 units are installed, one on the transmitting end and one on the receiving end, connected with the use of 10GbE switches. The exhibit introduces the idea that non–compressed bidirectional multicast transmission in 4K 60P, for a smooth broadcast of high–definition video through IP, can be achieved in this way.
PFU is also demonstrating how users can easily switch channels remotely for IP transmission with two input systems. This function is a reference exhibit. The company says that switching currently requires a GUI base, but it will continue the development of a function to support a complete all–in–one switch.

■ Suitable for a workflow of converting IP data to DPX, then storing and editing
For the storage/editing system, the QoolTornado QG70 is connected via 10GE to a 4K non–compressed storage server. This exhibit shows that by converting the IP data that the QoolTornado QG70 receives to DPX, coordination with a non–linear editing system is possible, creating an environment conducive to storage and editing workflows.
According to booth staff, "We expect that the unit will be used for transmission of video from affiliated broadcasting stations and remote studios, for editing of raw video, and for practical use by event companies and medical institutions."
The unit went on sale this April, and is used as standard equipment by scientific institutions researching video streaming technology. The price is currently up for discussion. The market price will be approximately ¥3,000,000.