(Inter BEE 2014) Laguna Hills presented the Swedish company-made multi-image displaying software "WATCHOUT." It allows construction of large screens such as with projection mapping, from images on multiple PCs.
2015.1.16 UP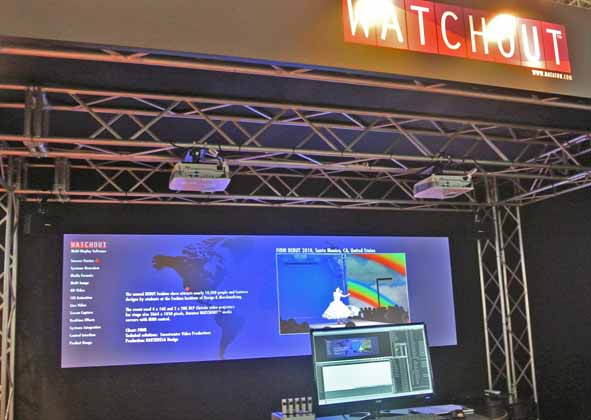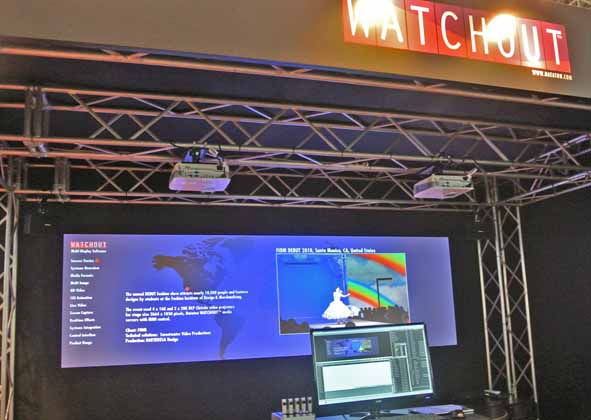 "WATCHOUT" demoing at the Laguna Hills booth.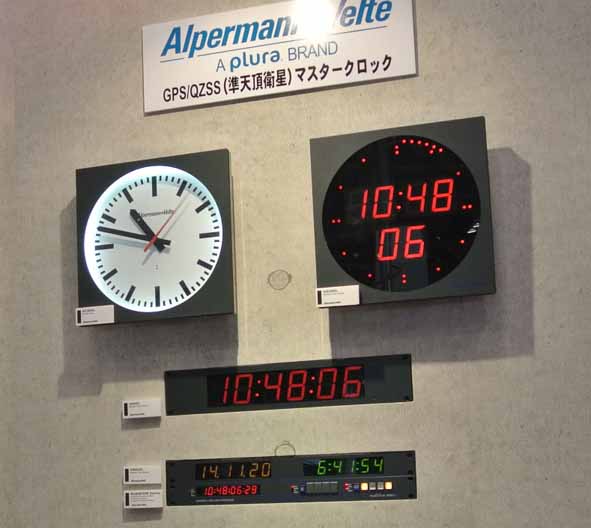 A clock for broadcasting offices made by the Germany company Alpermann and Velte.
Laguna Hills mainly presented software made for displaying multiple images, "WATCHOUT," by the Swedish company Dataton. Dataton, Co. is a well-established manufacturer with over thirty years of experience since their foundation, developing and manufacturing presentation systems. They have produced innovative products such as WATCHOUT, which is for multi-display productions, as well as the audio guide PICKUP, which can be used intuitively. The Dataton brand is breaking into event and entertainment industries worldwide.  

■ Synchronized images can be constructed with multiple PCs
  Laguna Hills company director Mr. Kenichi Nahara stated that "our company has been importing and selling the multi-image display software "WATCHOUT" for many years. It uses multiple PCs and it can create images of multiple synchronized screens. It can also combine all types of projectors and LCD displays and turn them into a large screen system. Therefore, it is also ideal to use for things like projection mapping. At the exhibition, they did a demo presentation of a wide screen that uses a high-luminosity projector, and specifically showed its blending technology.
 Mr. Nahara explained, "when using projectors with a mapping application, it is possible to project smooth, beautiful, and seamless pictures if you use edge blending technology. Also, because it has a geometry correction function, it is possible to project onto things such as slopes, corners, and cylinders as well. We conducted test mapping/screening, and explained these technologies in a way that was easy to understand to attendees. It has no limit to the number of surfaces on which it can display nor regarding its resolution, so it is able to project extremely large high resolution images such as 4K and 8K." Mr. Nahara then stated, "a space museum that opened up in Korakuen, Tokyo in July is using "WATCHOUT" provided by our company for its projection mapping corner and in other exhibits, four locations total. The use of WATCHOUT in places like the latest museums is increasing in this way. There were a lot of students who visited who were interested in mapping at the exhibition and were enthusiastically asking questions."

■ A clock made by Alpermann and Velte for broadcasting companies was on exhibition as well.
 German company Alpermann and Velte Co. has been oriented towards the professional broadcasting market for over 35 years since its foundation, and they design, manufacture, and sell time code-related products and clock systems. The company exhibited their clock made for broadcasting companies at the booth as well.
 Mr. Hidekazu Matsunaga of Laguna Hills explained "the clocks that broadcasting companies use in places like their studios to display time precisely are essential to them. The company's clocks support the use of American GPS and Japanese order zenith satellites as well as the large number of satellite signals the world has, and are able to precisely keep the passing time with absolutely no deviation. Because the number of manufacturers making these sort of clocks for broadcasting companies has decreased, they are highly valued in the community."

■ The company exhibited at the audio corner as well
 Company president Izumi Higasayama of Laguna Hills stated that "our company set up a booth outside of the image equipment booths in the area for audio related products as well. Here we exhibited the latest equipment related to digital audio. Both of the booths were a success and I think we were able to make members of the industry understand our company."

(*This is a report which contains content of the Inter BEE 2014 exhibition that was held at the Makuhari Messe convention center on November 19th - 21st, 2014).