(Inter BEE 2013)TEAC demos TASCAM-brand products and German beyerdynamic-brand mics, digital wireless system offering single-unit support for post-transition radio mic frequencies
2013.11.13 UP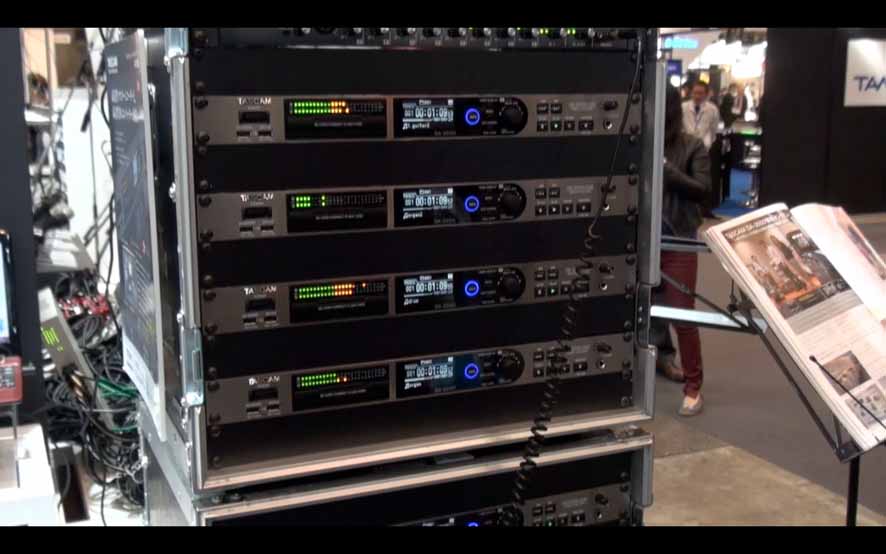 The DA3000, which combines a stereo master recorder and DA converter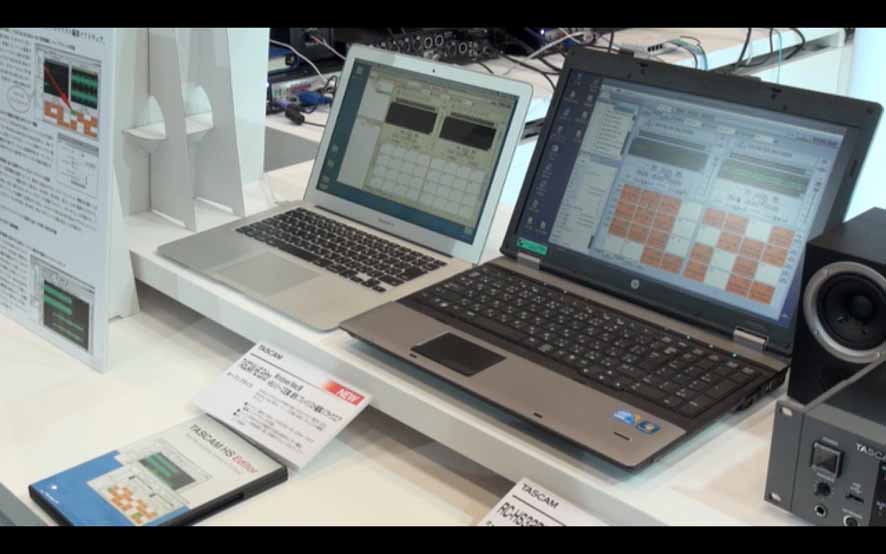 TASCAMHS Editor playlist editing software
The TEAC booth (Pro Audio section, #4208) spotlights microphones and headphones from its TASCAM brand and the German brand beyerdynamic. The display primarily features commercial broadcasting equipment and recording equipment, but the showpiece among them this year is beyerdynamic's digital wireless system featuring support for Japan's revised Radio Act. The commercial UHF digital wireless system boasts wide-ranging technology that covers 470 MHz to 714 MHz using a single receiver. It can be used in assembly halls, public-address systems, and venues where sound reinforcement is required.
At the display booth, both wired and wireless mics are available so visitors can listen to and compare the differences in latency and sound quality between them.

• Improvements to the monitoring environment; master sound source storage at high resolution now possible
The TASCAM DA-3000 stereo master recorder / ADDA converter, released this year, is a commercial recording device that combines a stereo master recorder with DSD 5.6 MHz support and an ADDA converter with high sound quality. By introducing the DAW work environment, the DA-3000 not only stabilizes and improves the day-to-day monitoring environment, but also allows storage of master sound sources at high resolutions using a high sampling rate.
The DA-3000 is distinguished by its ability to synchronize the operation of multiple DA-3000 units. At the booth, eight DA-3000 units are being displayed synchronized, demonstrating a 2x8 16-channel multitrack.
 
• Playlist editing software for sound-effects processing allows users a greater degree of freedom in editing
The new TASCAM HS Editor allows users to edit playlists to insert sound effects in commercial broadcasts. The application software supports editing and prep work on the HS recorder/player series and is available for both Windows and Mac. TASCAM has been exhibiting sound-effect processing solutions for three years, but by interpolating them with the hardware, they are releasing software for personal computers that allows users an even greater degree of freedom with editing. Supports both Windows and Mac OS X. The display at the booth allows visitors to try the software for themselves.