InterBEE 2012: CamCast7 exhibits new Wi-Fi, LAN, 3G/4G/LTE compatible V-mount camera-back HD encoder
2012.10.23 UP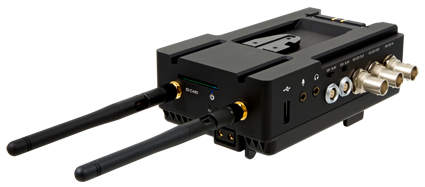 CamCast7 will exhibit a new BRIK V-mount H.264 encoder at its booth (crossmedia zone, booth #8204). This ultra-small camera back HD encoder can deliver live footage from anywhere which has an Internet connection. This encoder comes via the America based Teradek, LLC. CamCast7 specializes in live Internet broadcast services and the sale of related equipment. The company is Teradek's sole sales agent in Japan and imports, sells, and offers support for the company's products.
 Using a dedicated decoder, users can retrieve data for monitor out, as well as easily forward live footage to CDN such as the Ustream and NicoNico Douga live platforms.
 Like the CUBE H.264 HD encoder also offered by CamCast7, this encoder offers a wide range of functions but in a small body. It comes equipped with dual active SDI loop-through. The device can also be used for DC output to supply power to monitors, recorders, and other peripherals.
 The device also features dual-band Wi-Fi and MIMO, meaning users can monitor footage on a nearby iPad during filming, as well as record high-definition footage to SD cards.
 The BOND modem is a specialized modem for use with the BRIK and CUBE models. Used in conjunction with those encoders, it enables 3G/4G/LTE access in outdoor areas which have poor network connectivity, thus allowing seamless video delivery. While the price is open, it is thought that the street price will be around ¥45,000.
 Including the products above, CamCast7 will be offering a total of six new products on the show floor which provide new solutions for video delivery, file forwarding, and broadcast and filming.

InterBEE 2012
Inter BEE is a professional sound, video and communications exhibition where top-level foreign and domestic broadcast equipment, video equipment, audio equipment, lighting equipment, IPTV, Mobile TV, cross-media, and related applications and solutions are gathered under one roof. It is an exhibition that provides an opportunity for people involved in all aspects of media to find out more about the latest trends in the creative and media businesses.

It will be held at the Makuhari Messe from November 14 (Wed) - 16 (Fri) (free admission).