[NEWS] The Inter BEE venue space will be expanded to commemorate its 50th anniversary, and a hands-on experience event for specialized equipment and line array speakers will be held. New endeavors for the next generation, such as "INTER BEE CONNECTED", are also planned.
2014.7.30 UP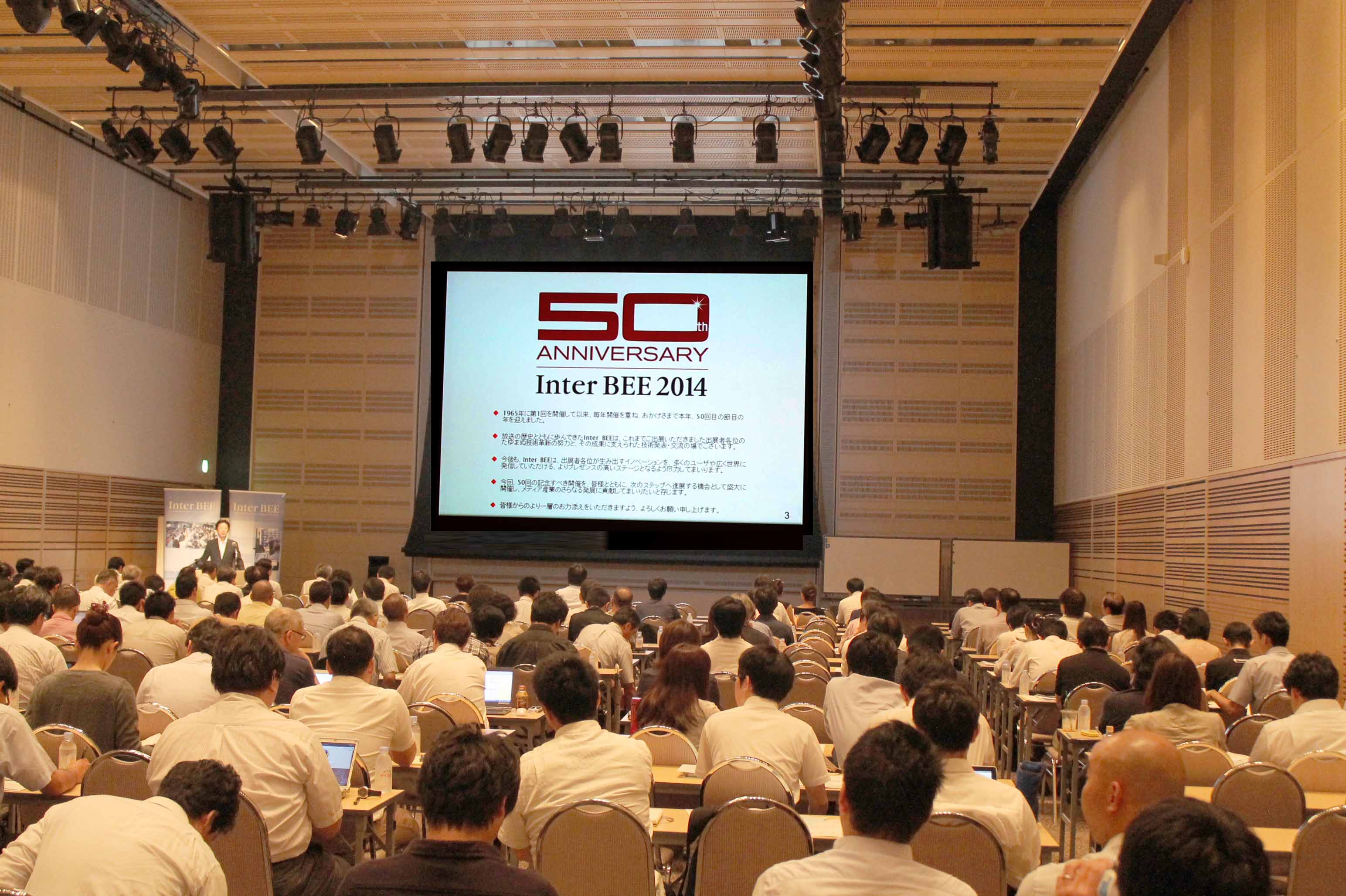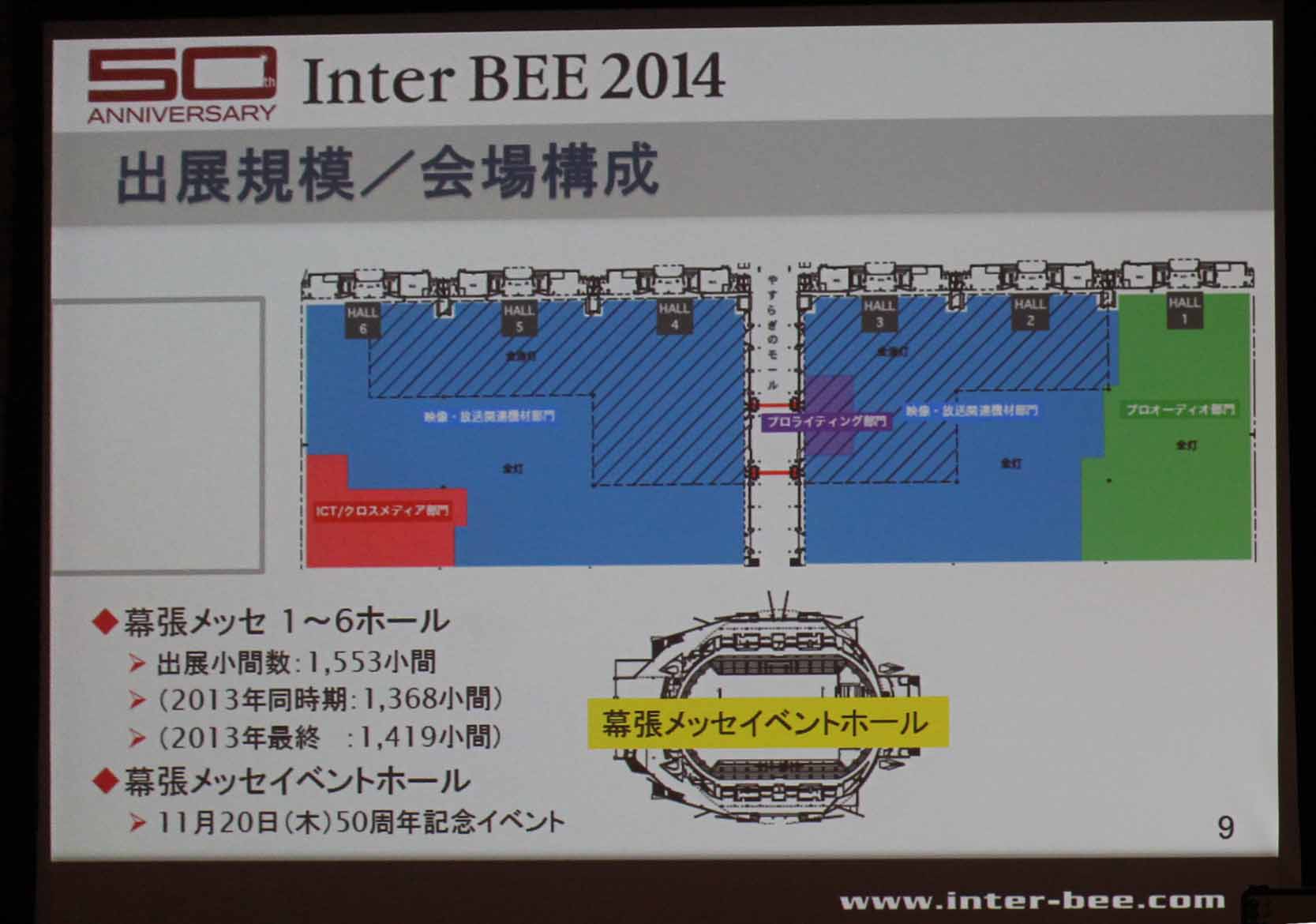 Venue space will be expanded. The Event Hall will also be used in addition.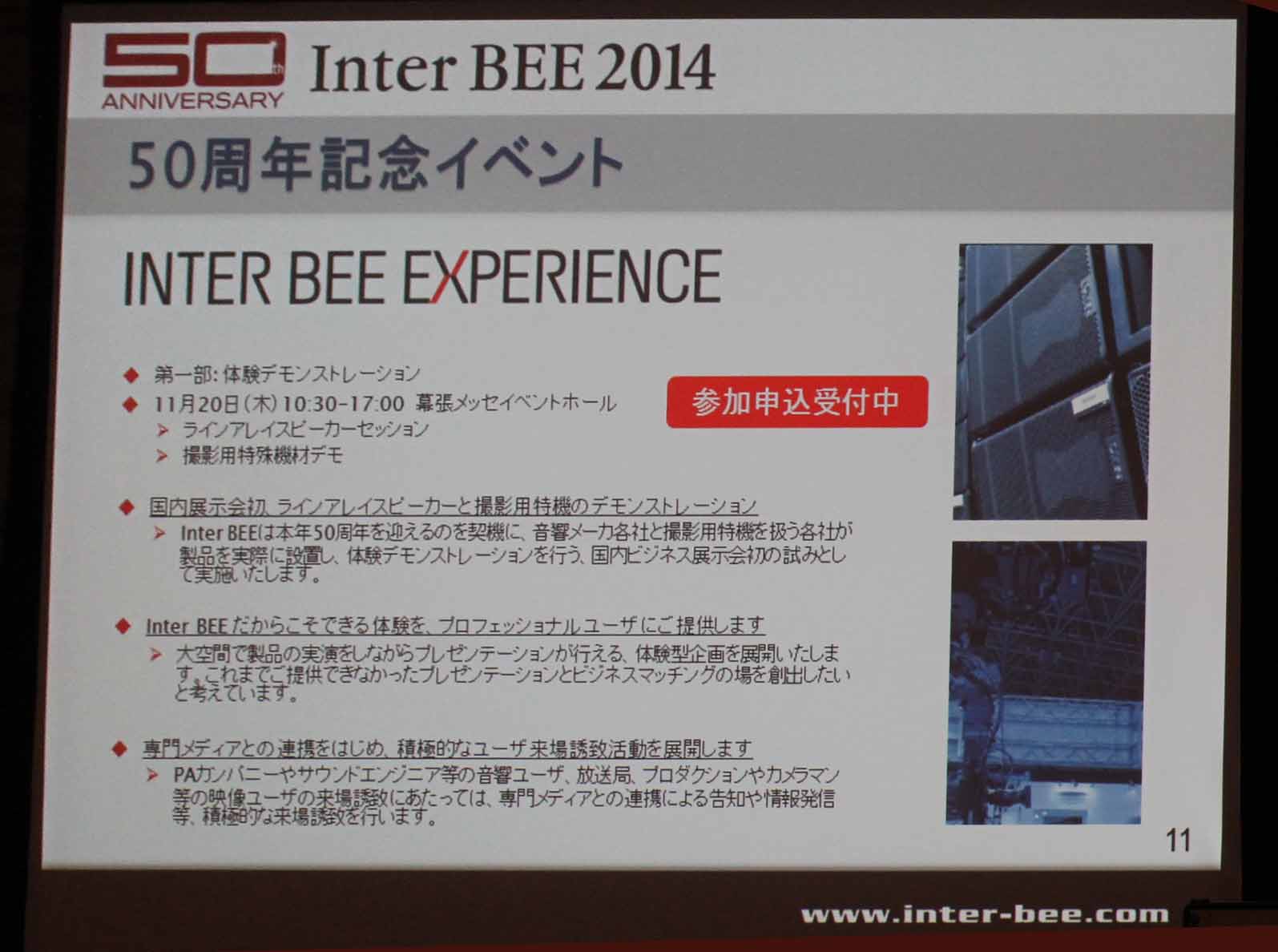 Description for INTER BEE EXPERIENCE, an event to commemorate the 50th anniversary.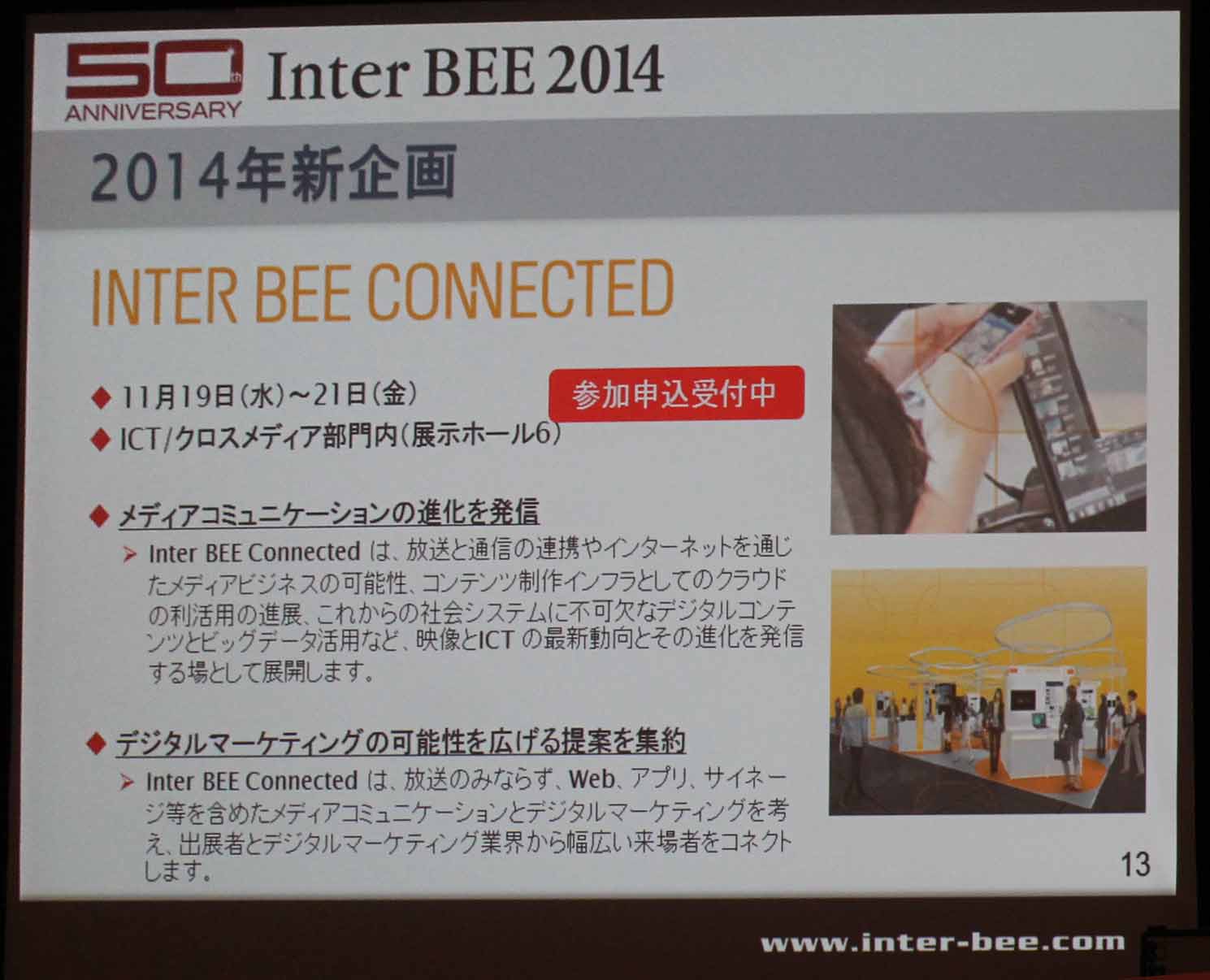 Description for INTER BEE CONNECTED, a new event.
■The number of exhibition booths will be the largest so far. Event space will be expanded and many commemorative events will be held.
On July 24th, the Japan Electronics Show Association held a pre-event information session for Inter BEE exhibitors at the Sankei Hall in Otemachi, Tokyo. They presented an overview of this year's Inter BEE and explained other matters such as venue structure.
This year's Inter BEE will be held over three days from Wednesday, November 19th to Friday, November 21st at the Makuhari Messe in Makuhari, Chiba. At the time of the information session, the number of exhibiting companies was 1553, exceeding the final number of exhibition booths last year, which was 1419.
In addition, as this year marks the 50th anniversary for Inter BEE to be held, various commemorative events and new events are planned. Including the space that will be used for these commemorative events, the total exhibition space for this year will not only be the six halls at Makuhari Messe (Halls 1 to 6; only five of these were used last year) but also the Makuhari Messe Event Hall.

■There will also be collaboration between exhibiting companies and creator group "Rhizomatiks".
At the Makuhari Messe Event Hall, an event to commemorate the 50th anniversary, "INTER BEE EXPERIENCE", will be held on Thursday, November 20th.
This event will have a two-part structure, and in the first part (10am to 5pm) for the "hands-on demo", line array speakers and specialized equipment for filming will be displayed and made available for hands-on demos.
Manufacturers will set up and perform demos for their line array speakers and specialized equipment for filming, whose performances cannot be sufficiently tested at ordinary exhibitions due to limitations in, for example, the size of booths or venue. This endeavor, which makes use of the large space that the Event Hall provides, is the first of its kind at an exhibition in Japan.
For the second part (6pm to 8pm), an event on "concert stage content that synthesizes video, music, lighting, and performance" will be held to commemorate the 50th anniversary. There will be a live stage performance by the general director of "Rhizomatiks", which is a group of creators who are attracting attention for their expressions that fuse advanced technology with video, music, lighting, and performance. At the information session, exhibiting companies were asked to provide technology and products for this live stage performance. Given Rhizomatiks' intent to put on a performance that puts to good use the features of the provided products, we look forward to how a collaboration will unfold between participating companies at the exhibition and creators.

■"CONNECTED" will provide an opportunity to think about recent trends in content production/business and advertising technology.
Alongside "INTER BEE EXPERIENCE", a new event that will be held is "INTER BEE CONNECTED". The event's space will be prepared within the ICT/cross-media section, and the newest movements and developments in video and ICT will be presented based on themes such as cooperation between broadcasting and communications, possibilities for media businesses through the Internet, making good use of cloud computing as an infrastructure for content production, and making use of big data in content businesses. Specifically, pod exhibitions, corporate presentations, and other activities are being planned to take place in the INTER BEE CONNECTED area and at the various project sessions during the three days of the exhibition.
Among the various topics that will be introduced are video transmission and adaptation to multi-screen video at broadcast stations, cloud computing, video transmission technologies, and the newest ad technologies.

■The vice chairman of NAB and the president of SMPTE will visit Japan for the keynote speech.
In addition, at the "Inter BEE Content Forum", which has been held each year, a keynote speech by the vice chairman of the United States National Association of Broadcasters (NAB) and the president of the United States Society of Motion Picture and Television Engineers (SMPTE) has been planned. For the special lecture, the governor of Tokushima Prefecture, Mr. Iizumi, and others will come onto stage to give a lecture themed on cooperation between broadcasting and communications titled "A new platform for society. Addressing Japan's two major challenges: disaster response and declining birth rate/aging population."

■A tutorial themed on "4K content production" and "file-based work" will be held.
The video symposium will be themed on "Current status and issues of ultra high definition video content production (tentative)" and the acoustic symposium on "Audio Over IP/MADI". For the tutorial seminar, for which there will be a charge, we are planning "Introduction to 4K content production technology" and "File-based workflow/Sound production for the cameraman and director".
Furthermore, like last year, we will be holding the "Japan Post Production Conference", which is the Japanese equivalent of the Post Production Conference that was held at NAB. Seminars will be held for tools such as Final Cut Pro X and DaVinci Resolve, as well as on topics such as metadata, media management, and finishing.