[InterBEE 2012] Seika Digital Image - Demo of 4K RAW video production workflow including CODEX DIGITAL's latest SSD recorder, ColorFront's file exchange software, and more
2012.10.30 UP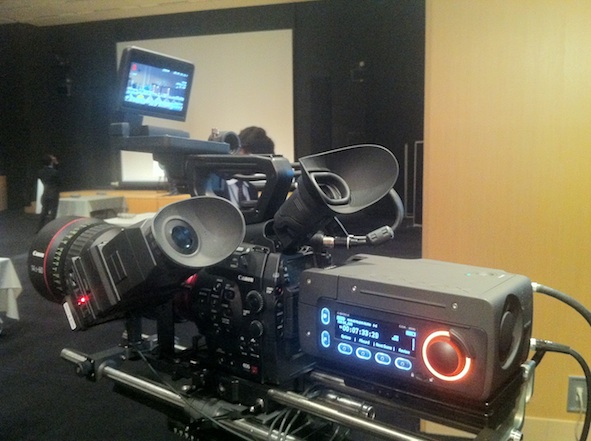 Seika Digital Image (video/broadcast related equipment division #6316) will be exhibiting CODEX DIGITAL's latest SSD multi-format recorder 'OnBoard S Plus', ColorFront's on-set file exchange software 'OnSetDailies', and more. There will be a demonstration of OnBoard S Plus mounted on a digital cinema camera and used in a workflow, from the shooting of 4K digital video to editing.

-Years of Supporting 4K Workflow Construction
Since its initial launch of the digital cinema camera REDONE in 2006, Seika Digital Image has not only continued selling the REDONE but has also put together a selection of related products to support the construction of workflows using 4K RAW data from various types of digital cinema cameras. There are currently over 200 REDONE users in Japan alone.

-Compact SSD 'On Board S Plus' - Supports EOS C500's Canon Cinema RAW
CODEX DIGITAL's SSD multi-format recorder 'OnBoard Recorder', which has also been carried by Seika Digital Image since the beginning, gained attention early on as a digital cinema recording device that supports ARRI RAW data from ARRI's digital cinema camera Alexa.

The new 'On Board S Plus', which was announced in August and exhibited at the IBC, is lighter (it has a weight of 1kg), has a more compact design, and supports Canon Cinema RAW output from Canon's EOS C500. According to Masayuki Itakura, sales department digital image equipment supervisor, the growth of the 4K market is shown by the fact that there has already been nearly 500 domestic and foreign orders in the 2 short months since the product was announced.

One of OnBoard Recorder's main features is the VFS (virtual file system) function which in addition to generating RAW data at the time of shooting, can also instantly generate a virtual file from Quicktime, DPX, and others. This allows for playback and the checking of footage. Recorded data can be checked on location without the need for development processing. In addition, CODEX DIGITAL's VAULT system is a product that allows for the management of everything from data ingestion for backups, to file conversion. VFS is able to quickly convert and transmit various data formats using data recorded by digital cinema cameras such as the Alexa, C500 and F65.

-'OnSetDailies': Real-time Rendering of 4K Video in the Background
ColorFront, which is headquartered in Budapest, the capital of Hungary, and which Seika Digital Image has concluded a sales agent contract with, also offers a powerful product that supports 4K video production workflows. The on-set file exchange software 'OnSetDailies' is able to play while still rendering 4K digital cinema camera video in real-time in the background. ColorFront is a company founded by the developers of Autodesk's Raster. The product received an Emmy award this year.

[InterBEE 2012]
Inter BEE is a professional sound, video and communications exhibition where top-level foreign and domestic broadcast equipment, video equipment, audio equipment, lighting equipment, IPTV, Mobile TV, cross-media, and related applications and solutions are gathered under one roof. It is an exhibition that provides an opportunity for people involved in all aspects of media to find out more about the latest trends in the creative and media businesses.

It will be held at the Makuhari Messe from November 14 (Wed) - 16 (Fri) (free admission).