【Inter BEE 2013】PIXTA ― Stock photo and footage marketplace site with over 6,000,000 items, selling HD video footage starting at ¥9,450; use increasing in digital signage and elsewhere
2013.11.15 UP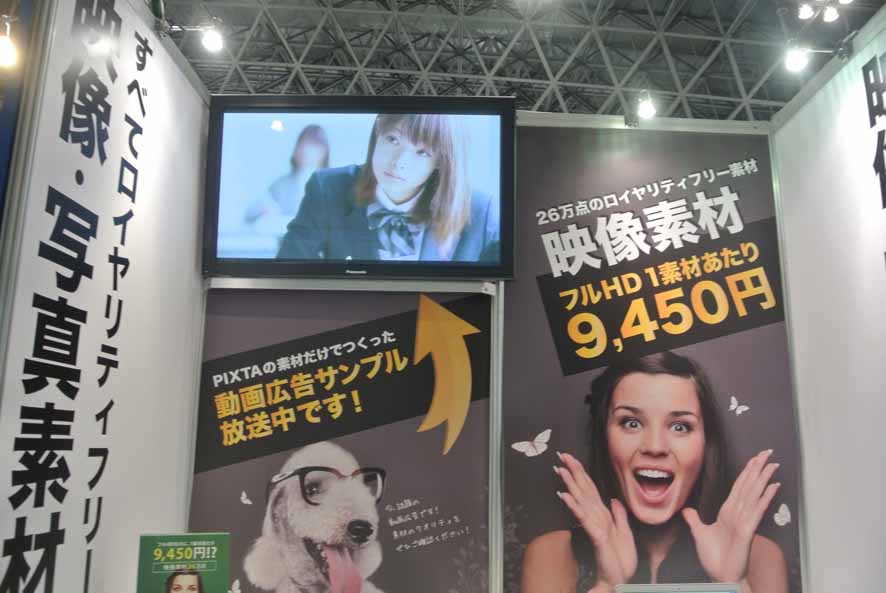 PIXTA (booth 8308) launched its marketplace site for stock photos and video footage in May 2006. The site began with 50 contributors and several hundred images, but today boasts over 120,000 contributors, is used by over 120,000 customers, and is now the largest stock site in Japan, with contents exceeding 6,000,000 items (roughly 260,000 video clips) as of November. The company emphasized at the exhibition the low price of full HD footage, starting at ¥9,450.

■Buy once, use unlimited times forever
PIXTA has assembled 260,000 pieces of high-quality video footage from a wide variety of genres, including aerial, underwater, nature scenes, animation, people, CG, and effects. PIXTA General Manager Mariko Ishida says, "All of PIXTA's video footage is royalty-free and can be used freely as many times as needed after purchase." There are no time limits, and processing or editing within the scope of the usage agreement does not incur additional costs.

■Content drawn from across the board
PIXTA draws content from a wide variety of contributors, from production houses and professional cameramen to office workers and housewives. Ishida extols, "Our company has taken the strategy of gathering a wide variety of contents from the public to sell on our site. There are contributors earning hundreds of thousands of yen per month from popular content. We sell each video clip (5-60 seconds) for the same price, instead of selling by length, with full HD footage at the reasonable price of ¥9,450 each and mobile-size footage going for as little as ¥2,100."

■Growing usage in digital signage, elsewhere
 Usage includes not only television programs and commercials, but also corporate video packages, digital signage, and video advertisements for the web. "Due to the diversification of media, we're seeing a wide range of applications for our content. Orders from the bridal and event industries are increasing." The wide selection of works by a variety of contributors has led to an increasing number of customers, which has in turn led to even greater sales in a virtuous cycle. PIXTA's stock video footage service could be said to be a video business of the new era.