[Inter BEE 2018] Onkio Haus A demonstration of "OHS³" - a data delivery management and operation service for television commercial post-production
2018.10.3 UP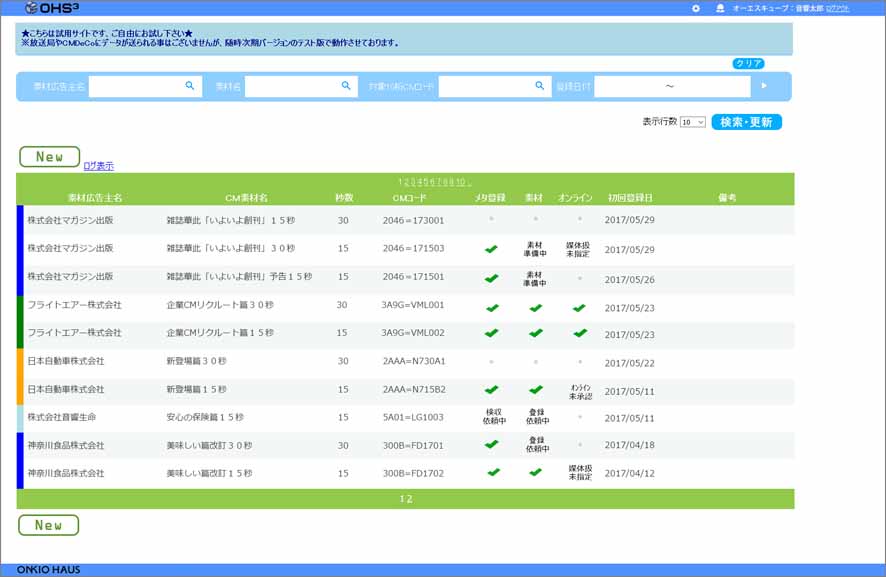 Screen displaying list of OHS³ services. The most important item during the ​development of the system was to deliver "e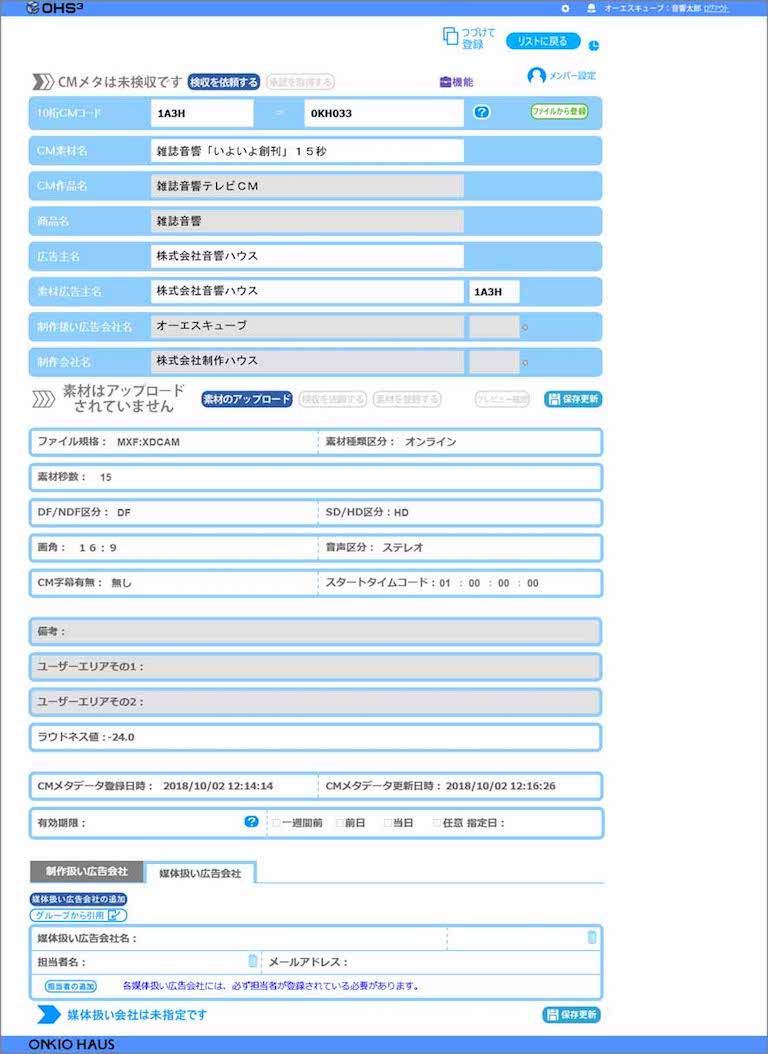 Screen displaying the OHS³ editing interface. With the ability to operate the system on a smartphone, clients can verify

Preview screen of uploaded materials.
Onkio Haus, a leading post-production facility in the Japanese television industry for over 40 years, will be exhibiting for the first time at this year's Inter BEE. The company will be presenting a demonstration of its new data delivery management and operation service for television commercial post-production, "OHS³" (Onkio Haus Smart Send Service). This service provides support for delivering commercials to television stations for broadcasting.
Online data processing for television commercials had started in October of 2017, as a service targeting advertising companies which produced television commercials according to guidelines set by the Japan Advertising Agencies Association (JAAA). Currently, telecommunication companies and post-production facilities such as ONKIO HAUS are able to provide these services. With the format of delivering commercials transitioning from physical media (e.g., videotape) to online media, such data can now arrive at all broadcast stations nationwide in a consistent, uniform format. One of the advantages of this delivery format is the elimination of any risks of delayed delivery or failure to arrive due to bad weather or other accidents.

■Data to be examined by specialized experts
The OHS³ service provided by Onkio Haus involves uploading data containing the commercials from the company's servers to specialized receiving servers installed at broadcast stations. Post-production experts will use their knowledge and experience to carefully check all video data and metadata during each delivery.
Yoshimitsu Oda, Senior General Manager of the studio engineering department at Onkio Haus, states, "We have specialized knowledge and experience in video, so if we are given the original master elements of a commercial production, we can safely and securely complete the entire workflow, all the way to final delivery." He also added, "Although of course, while we have clients for whom we provide post-production, we also can provide just the online delivery process as well."

■Online delivery is becoming rapidly popular
Currently, delivery of television commercials can be processed through files uploaded via online delivery. But while delivery via legacy media such as HDCAM and XDCAM is still being facilitated during this transitional phase, HDCAM-VTR services will no longer be supported by 2023. While current online delivery is being supported mainly by major urban broadcast stations as well as second-tier stations, the process accounts for only about 10% of all commercial delivery nationwide. But with data becoming higher-resolution and higher-definition, both media and file formats will surely continue to evolve.
As the central systems at broadcast stations continue to evolve towards IP compatibility, online delivery compatibility will become easier and standardized. At this year's Inter BEE, we anticipate that there will be other online delivery services on exhibit in addition to Onkio Haus. This should prove to be a valuable opportunity for broadcast stations and production companies considering the move to IP compatibility.

■A demonstration using virtual servers
At this exhibit, Onkio Haus will demonstrate the OHS³ workflow using virtual servers. According to Oda, "In addition to introducing our OHS³ service, by also providing ​educational information about the basic television commercial online delivery workflow, we hope that we can help to promote and accelerate the adoption of online delivery."
The traditional method of commercial delivery involved copying onto physical media such as videotape, for each broadcast station, and also involved the extra steps of packaging, shipping, transporting, receiving, verifying, ingesting or digitizing, and registering of the media.
As broadcasting becomes more digitized and IP compatible, the biggest change will come with the expansion of online delivery. This transition will result in the automation of many of the traditional steps involved in delivering commercials, and streamlining the workload.
Oda states, "At our booth, we plan to pro-actively answer even the most basic of questions, and we want to spread awareness of online delivery."