Inter BEE 2015: INTER BEE CONNECTED Session Report #3: Key stations share expertise in on-demand video streaming and refine their own approaches
2015.11.26 UP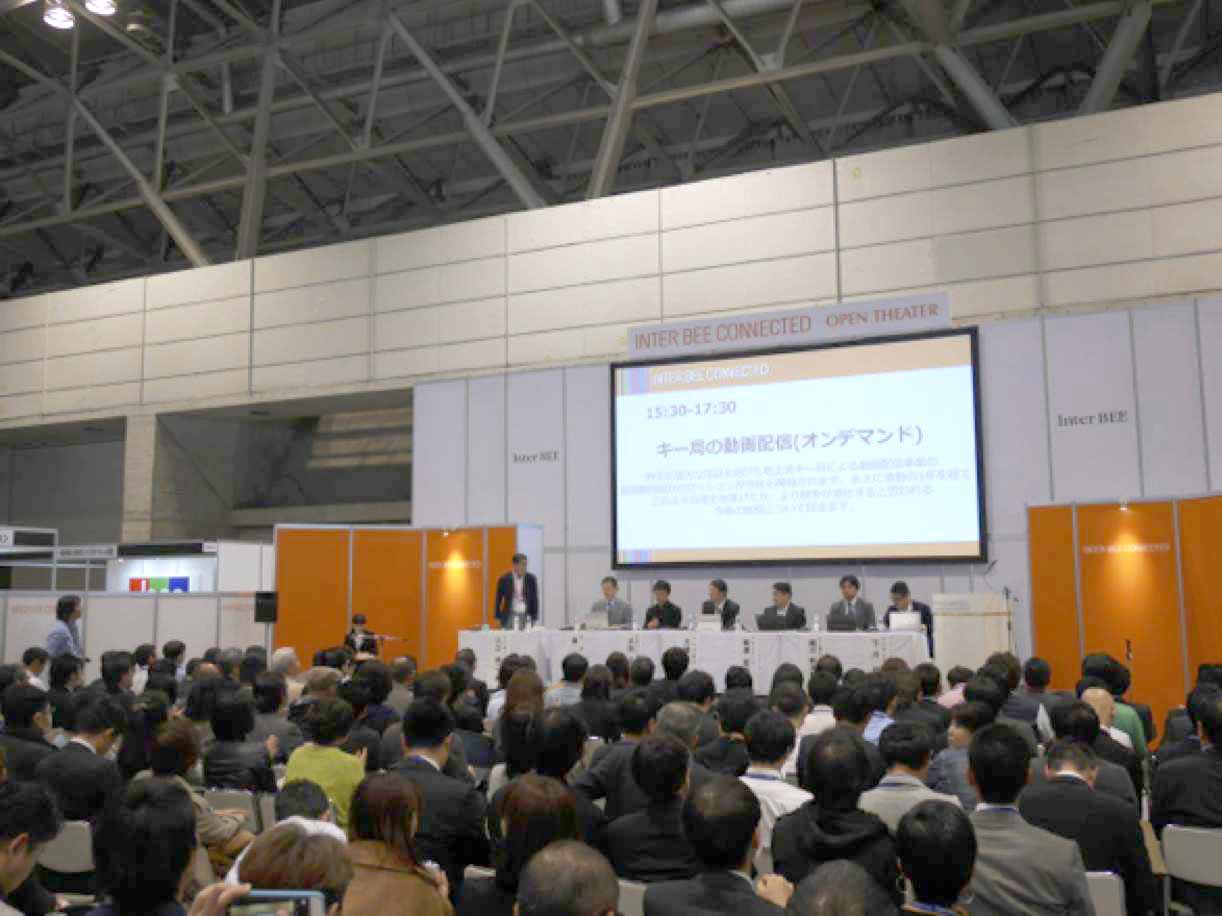 For the last session of InterBEE Connected on the 18th, a panel discussion on key stations' approaches to video streaming was held, with a full lineup of representatives from each of Tokyo's key stations in attendance. Last year, there was a similar panel on key stations' streaming online, and it saw so many guests that there was standing room only. Once again, this year's session was a full house, with a separate satellite hall also filling up. The InterBEE keynote speech on TVer also drew enthusiastic attention, and this panel on broadcasters' video streaming efforts was no exception.

--Osamu Sakai, copywriter and media consultant

■ Data shows the sheer size of net-based needs for TV content streaming
The moderator for the session was Seiji Eguchi, who also happens to be the initiator behind the InterBEE Connected program. The panel began with remarks by Katsuya Oku of the Dentsu Innovation Institute (DII), who also appeared for last year's session on video streaming. He set the tone of the talks by showing the latest data on viewer interaction with television broadcasts and online video.

As more and more young people become estranged from television, the fear is that each generation will follow suit, leading to a downturn in interaction with television on the whole. At the same time, panelists emphasized the way in which, when users watch video online, there is a strong tendency to also include traditional television programming in the content they watch. In other words, streaming television programs online would meet a major need.

■ Nippon TV's multi-polar expansion of video streaming services
Representatives of each broadcaster then gave presentations on what steps they are taking towards streaming. Masahito Ota of Nippon TV stated that the broadcaster is taking a simple approach: promoting its on-demand streaming of missed programs while simultaneously using hulu to stream archived content. Hiroshi Oba of TV Asahi said the company is pushing forward TV Asahi Video and TVer for on-demand services while also providing programming to CyberAgent, AbemaTV, and KDDI Video Pass. In addition, TV Asahi is devising favclip as a core portal site that goes beyond video.

■ A range of video streaming options from key stations
Hiromasa Takazawa of TBS used a four-stage matrix to describe the broadcaster's plans for its rollout and expansion of TBS FREE into an on-demand, paid service. Shinjiro Ninagawa of TV Tokyo Communications explained that the broadcaster wants to take its vast vaults of content, spanning everything from business programming to the erotic, and stream them in a way that realizes the broadcaster's unique strengths. Takeshi Shimokawa of Fuji TV rounded off the remarks by explaining the broadcaster's plans for a multi-polar TVOD, SVOD, and ADVOD rollout under the FOD brand.

■ What broadcasters are aiming for with video streaming
The latter half of the discussion began with a question by Mr. Eguchi about what the underlying reason for broadcasters' getting involved in video streaming is. Mr. Ota remarked that on-demand streaming of missed shows is intended to reach out to younger demographics and supplement the existing terrestrial offerings; as a paid service, it is being treated as a different source of revenue that is more insulated than regular broadcasting from the vagaries of the market. Mr. Takahashi largely agreed, adding that TBS, with its large archive of television dramas and soap operas, is streaming classics of yesteryear that, for one reason or another, did not make it onto DVD. For TBS, this service provides third- and fourth-stage use of past content.

■ On-demand programming for missed shows: generally used at home, less on mobile
Mr. Oku noted that on-demand programming for missed shows is largely used in the living or bedroom at home, with data showing that few users make use of these features while out and about. Panelists wondered if making this broadcasting TV set-specific might be best. Mr. Ota noted that data from hulu shows that most viewers access from smartphones, but actual viewing time is longer on televisions. Mr. Ninagawa stated that with smartphones on the rise, content is at this stage simply being widely offered, and providers are still struggling to find the best to get users to find and interact with that content.

■ Also seen was an approach between on-demand and live
Mr. Eguchi asked the panel if, going forward, programming might emphasize the importance of the live experience. With social media being essentially in real-time, would programming in a live format not be similarly well received? Mr. Shimokawa replied that Fuji TV's "Mecha-uru" program is being offered live, but there are considerable numbers of viewers who watch the show on-demand after it airs, so, rather than adopting a live format alone, something in between the two formats might be best.

■ Exploring a response to Amazon
Asked about Amazon, which started its own SVOD service in September, Mssrs. Ninagawa and Takazawa pointed out that while the e-tailer is pushing out a lot of content, they plan to wait and see where it goes. Mr. Ota agreed, saying the plan was to watch Amazon's progress, but that Nippon Television is fundamentally not interested in entering a service that does not bring back revenue to the content provider.

We are now in the second year of on-demand streaming of missed programs, and the TVer portal has also been launched. The session made it clear that each broadcaster is refining its own approach to this growing space. We hope to see them continue to enhance their offerings and find revenue-generating models that bear fruit.