【Pre Inter BEE 2013】FilmLight: New Color Grading Technology for 4K TV Programming, FilmLight Japan To Approach 4K Market Here
2013.10.31 UP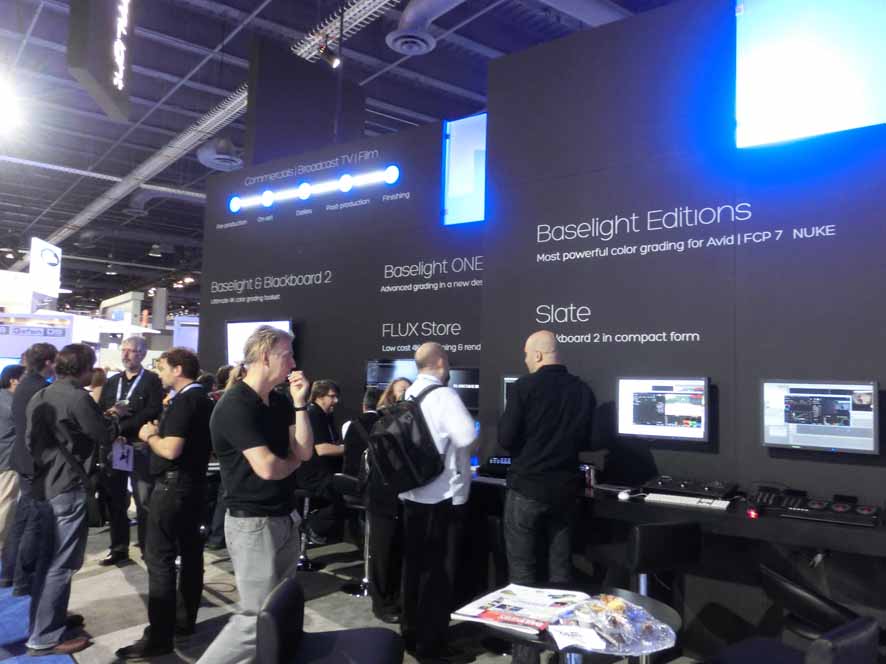 Color grading systems developer UK company FilmLight took part in InterBEE 2013 November 13-15 at Makuhari Messe in Chiba, showing and demonstrating their newest technologies currently in development. This was the first appearance at InterBEE for FilmLight, introducing color grading technology for 4K television broadcasting with an eye to the Japanese market. (Pictured above is the Film Light booth from NAB2013.)

■FilmLight To Bring 4K Broadcasting Support to Japan
 FilmLight established their Japanese branch FilmLight K.K. on October 8. Former technical consultant Kouichi Matsui assumed the top position there. With 4K broadcasting that will require improvements in both resolution and picture quality set to begin in 2014, FilmLight seeks to expand their share of the Japanese market and appeal to the broadcasting market. They are strengthening pre-sale support such as demos and design assistance, as well as the support structure for their existing customers.
 FilmLight was established in 2002 and has a depth of experience in high-end equipment in the digital intermediate market.

■Color Pipeline Improvements Announced at NAB 2013
 FilmLight introduced more products to support its color-grading pipeline suite Baselight at NAB 2013 this year.
 The new Baselight 1 is diskless with a 2TB SSD internal cache performing high speed processing. It an also be used as an assist machine in an existing footage sharing server. FilmLight showed it with a new compact panel Slate at InterBEE with soft keys making user assignments simple.
 Flux is a low priced media and rendering server for Baselight. It can handle video up to 4K thanks to a dual 10GB interface, and its ability to handle searches and media management will improve workflow efficiency for users.
 Plug-in software Baselight Editions is available for editing and compositing. Because information is saved in OpenEXR format BLG files, processing can be coordinated with grading. There is now support for Avid in addition to Final Cut Pro 7 and Nuke.
 Addressing the increase on on-set color adjustments, the FLIP On-Set Color Visualization System is now smaller, sleeker and battery power ready Information is saved in BLG files.

■BBC's Bolt To Introduces Color Grading for TV Production
 FilmLight has planned an event for the week after InterBEE where BBC documentarian Tim Bolt will introduce color grading methods for TV production.

【FilmLight】
 Address: Tamaya Bldg 6th Fl, 1-1-4 Hongo, Bunkyo-ku, Tokyo
 Telephone: 03-6801-6280
 Inter BEE Booth:Video and Broadcast Equipment Dept. / Hall 7 / 7307

At【Pre InterBEE 2013】we're delivering information on Inter Bee 2013 exhibitors, November 13-15 at Makuhari Messe in Chiba.