[Inter BEE 2018] Digital Laboratory Presenting a sound box with CD sound source downloading (with consent from record companies) and copyright reporting functionality. Developed collaboratively with FM NACK5, and can be used for all programs
2018.10.6 UP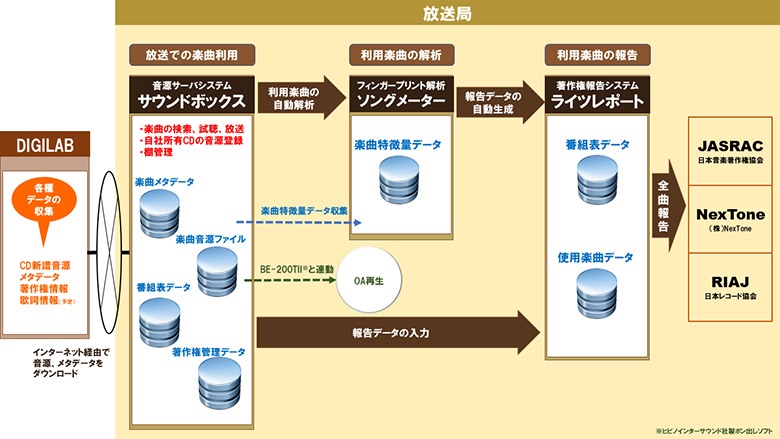 The Digital Laboratory (Digilab) began providing its sound source server system "Music Latte Soundbox" (Soundbox) from October 1. It is installed in broadcasting stations and can be used with programs by registering fixed sound sources with the consent of record companies. FM NACK5, which was developed collaboratively with Digilab from 2017, tested operation in September and will now begin full-scale use of all programs.
Digilab exhibited from November 14-16 at InterBEE 2018 (pro audio section/hall 2/2311) at Makuhari Messe with a Soundbox demo at its booth.

- Supporting music playback for broadcasting stations - sound sources are saved on the station's server
Soundbox is a "Music Latte" brand product system that supports music playback for broadcasting stations.
It can be used identically with both pre-existing assets such as CDs and records kept in the broadcasting station's recording studio, and with new music. A dedicated application can be used to save existing CDs and records into data form. Sound sources are ripped at 44.1kHz and downloaded into 44.1kHz or 48kHz WAV files.

Digilab stores the sound sources it has received consent for as "Music Latte Sound Source" on its own master server. Broadcasting stations contracted with Soundbox can all search for and preview these tracks, and can use the download function to acquire Music Latte sound sources and use them for broadcasting. The four record companies that can currently be downloaded from are Avex Entertainment, JVC Kenwood Victor Entertainment, King Record and Pony Canyon.

- Equipped with copyright reporting, cue sheet, and automatic analysis functionality
Through the association with another system that makes up "Music Latte," the copyright report system "Music Latte Rights Report," Soundbox supports the generation and security of report files and song titles based on record numbers and track numbers to JASRAC, NexTone, and the Japan Record Association.

It also features a cue sheet function that allows stations to manage program-use music management using the program guide, and to create and edit program progress charts. Can also acquire program guides from the Sales Broadcasting System. The program guide functionality allows for both the acquisition of framework and OA results data. Rights Report simplifies the task of inputting used music when using the copyright report function. Also enables Now On Air transmission from the cue sheet.

The automatic analysis system "Music Latte Song Meter" is an option with "Music Latte." Using fingerprint technology, this is a broadcasting system for automatically analyzing used songs from the same recording source. It uses the video/voice search technology developed by Sony, "AV-Maker."