InterBEE 2014 -- The world watches Rhizomatiks' latest undertaking! Collaboration with InterBEE fuses the latest equipment with cutting-edge performances / interview with Rhizomatiks creators
2014.11.14 UP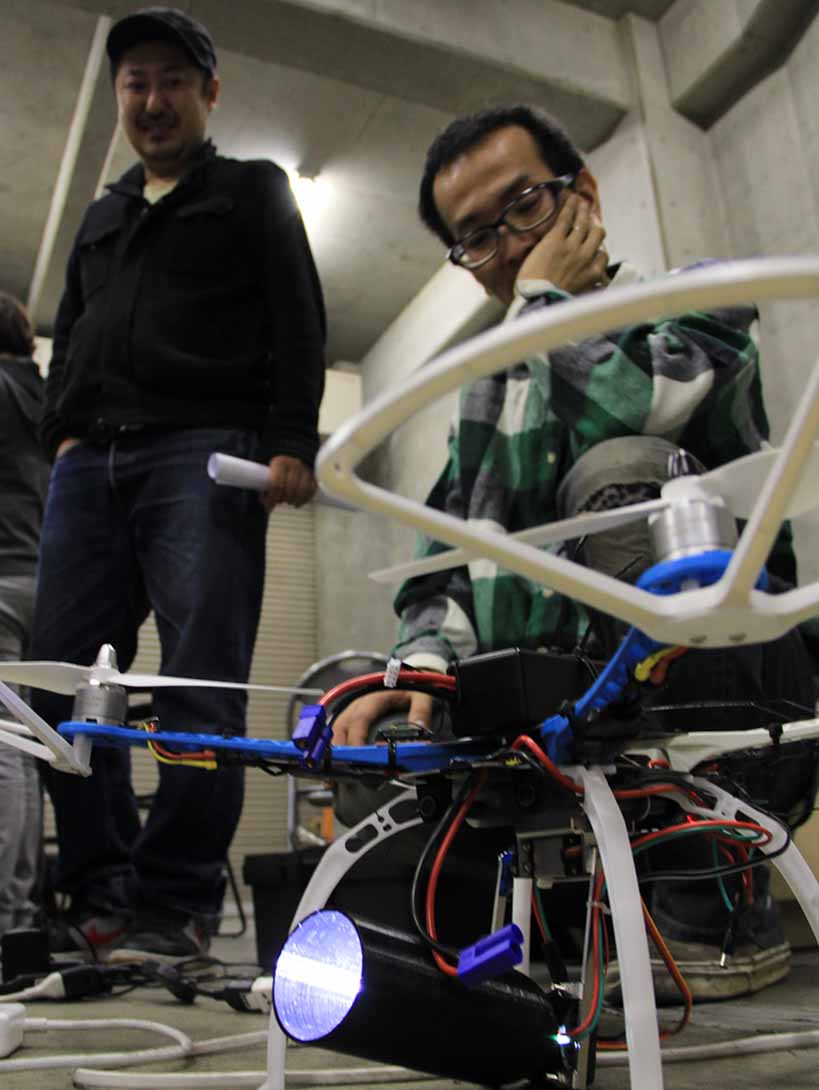 Rhizomatiks is a group of creators that hail from such diverse backgrounds as the worlds of design, architecture, mathematics, engineering, and more. Responsible for the likes of the projection mapping work for trio Perfume's live shows, they produce work for commercials, music videos, stage performances, and other media, garnering attention not just in Japan, but from the global entertainment sector and art scene.

For the "Live Entertainment" portion of the second part of InterBEE EXPERIENCE (November 20), Rhizomatiks and InterBEE are collaborating to produce a new worldview.

Rhizomatiks has organized a live performance featuring three of its creators. Almost all of the equipment used on stage will be items seen on the showfloor. With this project, the world's leading creators will use cutting-edge video, audio, and telecommunications tools to unveil a dramatic new performance. This active pursuit of the new shows how, as InterBEE welcomes its 50th anniversary this year, it is not only looking back on its solid track record, but stepping undaunted into the future.
 
Rhizomatiks say they were approached for the project this May. The project was then pitched at a workshop for exhibiting vendors in July. Rhizomatiks then visited those manufacturers who showed an interest in providing equipment and selected the right tools for the performance.
 
On November 6, just a few weeks before the performance, we visited Rhizomatiks' studio to speak with director Hidenori Chiba and creator Motoi Ishibashi, and learn about their intentions for this project.

■ Creating the future
Chiba said that the project is "An extremely rare case...it doesn't fit into any existing entertainment category, nor is it advertising work, nor are we solely broadcasting our own ideas. This project felt very unique to us out of the work we have been approached for thus far."

Rhizomatiks also say they felt something meaningful about this project leading the way to the future. Chiba said, "When we first spoke with InterBEE, they told us how they wanted to change their approach, using these 50 years as a turning point; they wanted to move beyond exhibiting equipment to having visitors see content created with that equipment. We decided to participate because we found this idea of using items on the showfloor to create content live to be an interesting new idea."
He adds, "[This event] is also strongly felt as a mission towards the future. In the US, too, expos are moving from exhibiting equipment to broadcasting some form of content. This is all unfolding right now, so InterBEE approached us with great timing -- it felt like a good match."


■Using the latest devices for expression
Creator Ishibashi has been to InterBEE several times before. For several years, now, Rhizomatiks has already been contacting vendors they met at InterBEE and working with them to test products they liked at the show.

Ishibashi said of collaborating with an exhibit like this, "We felt it would be meaningful to work on a project like this, where we aren't just demoing products, but actually using them for expression... guests can see demonstrations of products' features, then go on to see them used in a performance and understand how they might be used in final products. Of course, we also thought it would be fun to use the latest equipment to our hearts' content!"

■Calling on several dozen firms
Rhizomatiks has visited several dozen manufacturers in person to select the right tools. "We are actually right in the process of selecting items through trial and error to find the ones that will bring our vision for the performance to life. Naturally, we wanted to try a lot of different items, but we have been finding exactly the right tools that match our expressive aims," says Chiba.

As for the final performance, Rhizomatiks was tight-lipped, saying we would have to visit the event to find out. Chiba said, "We hope attendees will come with high expectations about this performance and how it will focus on the expressive power of these tools and their downstream output. This new style of fusing products with performances may reach new demographics and bring new people to these kinds of events."

■The biggest appeal of a live expo
"Even as a producer, this is a rare situation," said Chiba. "Few live shows have let us handle such a wide variety of equipment. There are always budget constraints. Even in terms of cameras and lenses, we were given free reign, so, while we've tried to restrain ourselves a bit, we love how many choices we've been given. It's also very different from ordering things from a catalog. I think this is the biggest appeal of a live expo -- handling things in person. What made this great for us is that, rather than selecting items and planning for when we might use them in future projects, we are using them right then and there."

■"Meaning in seeing things live"
The performance consists of three programs, with each one being run by a different creator. The first is themed around "visualizing music" and the second around "real-time analog VJing using high res VFX." These two performances are collaborations between Rhizomatiks and other content creators; the third and final performance will be run by Rhizomatiks itself.

Chiba, who is acting as a producer and spearheading this project, said, "We've taken part in many collaborations before, but this might very well be the first time we organize one built around working with other creators." Of the three performances, he added, "There is no 'direct' [correlation], but the program is balanced so that they harmonize together. We'd like people to walk away from this as one unified performance. Each creator is interpreting InterBEE in their way, and we aren't putting any specific parameters on what they must do. The first two performances will be by creators very strong in their respective fields, so we feel confident about what they will show us."

The third performance is being done by Rhizomatiks itself. Ishibashi said, "We are still going through trial and error on the piece...it's something people have probably seen on video before, but never as a live performance. Although today you can stream a live show or see it with video-on-demand, we feel there is meaning in seeing things in a site-specific context."

Chiba ended our interview with a message for visitors to the event: "This performance will in a sense be a 50th anniversary party. Please treat this as a chance to see some fun live entertainment."