ES1-205
INTER BEE EXHIBITOR Special Session
Amazon Web Service Japan
Nov. 18 (Thu)
16:00〜17:00
ONLINE
Realization of Multi-channel Live Streaming with AWS Managed Services
Login is required to view the video,
once you login the video will be displayed.

U-NEXT, a company that distributes more than 240,000 movies, dramas, animations, e-books, and other content, has adopted AWS as its platform for multi-angle live streaming in response to the increased number of cancellations of live entertainment events due to the 2020 coronavirus crisis. In June 2021, they launched a new multi-channel platform in the AWS and are steadily system to provide a wide range of new video experiences, including exclusive distribution of the domestic women's golf tour on all seven channels. In this session, U-NEXT will talk about their efforts and future development.
Junya Hasegawa
Amazon Web Services Japan K.K.
Solution Architect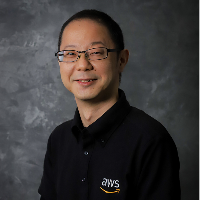 Takatoshi Kakimoto
U-NEXT Co., Ltd.
Vice President of Business Development