2009 Policies
Inter BEE 2009 promotes active revolution by grasping the latest trends.
◆Widening the horizons of the show.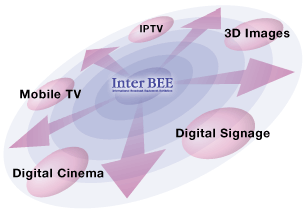 ■ IPTV
We set up a specific zone for IPTV products for which visitors have high expectations, to meet the needs of the visitors.
■ Mobile TV
We aim to create a show where visitors can get an early chance to check out business opportunities for the post digital era.
■ Digital Cinema
We will let you experience the potential and technology of the new digital media which could create a whole new market.
■ Digital Signage
The latest digital technology and communication systems that support the new media business will be showcased together.
■ 3D Images
Technological revolution will propel the media industry toward 3D and offer the users a whole new experience.
◆We will help you reduce the exhibition cost and achieve smooth exhibition.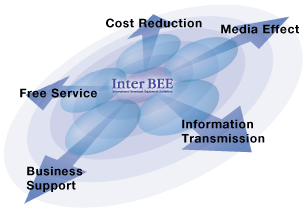 ■ Lowering booth fees
We lowered booth fees this year to help exhibitors improve their cost effectiveness.
■ Bonded exhibition
Inter BEE is going to apply for bonded exhibition site status to help foreign exhibitors reduce shipping cost. Exhibition products and decorations can be imported to the site under bonded status.
■ Support for booth decorations and exhibition preparations
Bilingual staff of the show Management Secretariat and each company helps foreign exhibitors decorate their booths and make rental arrangements for equipment.
■ Travelling support and provision of around the site information
We are going to help exhibitors reserve plane tickets and hotels as well as make domestic travelling arrangements according to exhibitor's needs.
■ A wide range of free services
We are going to make available various free support services for exhibitors to maximize exhibition effects.
◆Enhanced user invitation.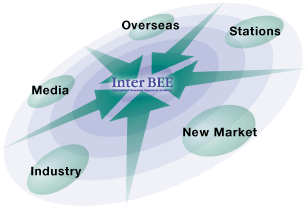 ■ Industry experts from all around Japan will visit the show
Since Inter BEE is the only trade show for the broadcasting industry in the country, it attracts industry experts from around the country including those who are from NHK and the major private broadcasting stations.
■ Inviting contents holders
We are going to invite contents holders who are seeking new business opportunities in this multi-use era.
■ High-levels of attention from the media
The show attracts a lot of attention from the media since cutting edge hardware technologies and progressive contents producing technologies from both domestic and overseas companies are showcased at the show.
■ Approaching overseas users
Inter BEE, with a lot of global partners, is enhancing PR activities for the Asian market in a bit to become an internationally influential trade show.
■ Expanding business opportunities thorough the synergy between broadcasting and communications
Complete switch over to digital broadcasting in 2011 will create opportunities to provide new services. Please utilize this chance to newly enter the industry.